Tag: T10 LED
by iJDMTOY on Nov.06, 2013, under LED & HID News and Updates
The parking lights are the small miniature lights that are also on with the low beam headlights at night, they serve as lights to be left on while parking (hence the name) and to provide positioning details of the car in the case of the headlight burning out. While they serve the same purpose one every vehicle, the names may differ from make to make; for example the Mercedes-Benz vehicles has them positioned on top of the headlights so it is called an "eyelid light". Normally, these are regular incandescent halogen bulbs so they produce a yellow glow. This is an eye sore; especially for a Mercedes that comes with factory HID headlights which are bright white. Our LED replacement bulbs for the eyelids are the perfect solution to this problem.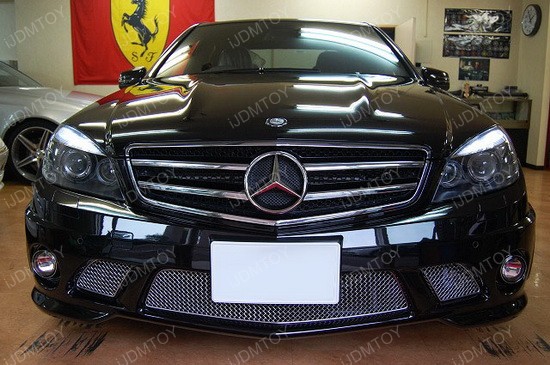 The Mercedes W204 LED eyelid lights we carry are 100% plug and play so no modification is required for installation. The factory size for this W204 C63 AMG is a W5W, otherwise known as 2825/168/194; our 24-SMD 1210 T10 LED Replacement Bulbs are the perfect choice for this application. While these bulbs are slightly longer than the factory bulb so they may not fit in every housing, they fit perfectly in this Mercedes-Benz. These error free LED eyelid lights are very easy to install and works for many other Mercedes-Benz vehicles such as the 2005 E500, 2006 SLK350, and 2008 CLS500.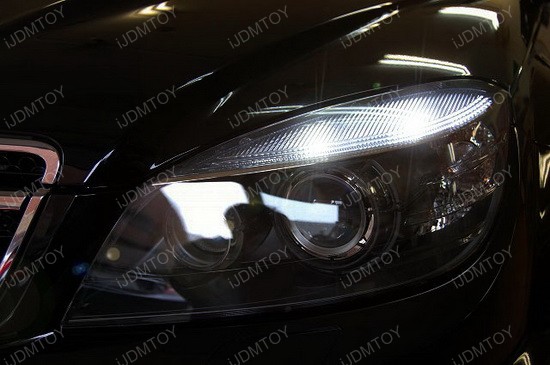 The built-in resistors on the LED bulb make these error free so they do not flicker or cause any error messages to appear on the dash to state that the bulb has burned out. The color is 6000K Xenon White so it is a perfect match for many of our other LED light. While these were tested on a Mercedes-Benz C63 AMG, it should also work for many other vehicles that can fit this and require error free bulbs. At 1.43" in length, these are about 1" longer than the traditional T10 bulb you would find on these vehicles so please make sure confirm these will inside the housing before purchasing.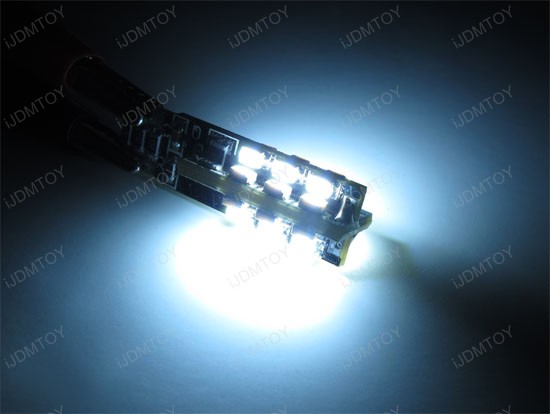 Brought to you by iJDMTOY.com, the expert for your Car LED. Follow us on Facebook for exclusive promo codes.
Leave a Comment
:error free bulbs, Error Free LED, Error Free LED Eyelid Lights, eyelid light, hid headlights, led bulb, LED eyelid lights, led light, led replacement, LED replacement bulbs, low beam headlights, Mercedes w204 led, Mercedes W204 LED Eyelid, parking lights, replacement bulbs, t10 bulb, T10 LED
more...
by iJDMTOY on Aug.06, 2012, under LED & HID News and Updates
Check out this hot-shot 2011 Nissan 370Z with LED License Lights. It's like a dream come true – a cool sports car with very small, but effective LED mod. I guess the owner of this drift-machine seems to like being unique and fancy, because not everybody puts "Drifters do it sideways" plate frame with cool LED lighting, but one thing is for sure – the featured LED mod makes the car stand out from the crowd and makes it look hotter than ever.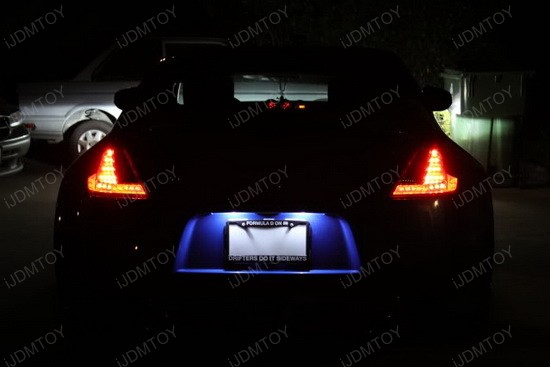 License plate lights are required and necessary on all vehicles, but they don't need to look like every other car on the road. So, if you want to dress up your ride with some cool add-on and make people say "Wow!", then the T10 LED bulb from iJDMTOY is just for you. You'll be surprised by the amount of pure white light these bulbs deliver. What's more if you want to go further, to look and feel a cut above the rest, then an optional I Love JDM License Plate Frame is available for a few more bucks.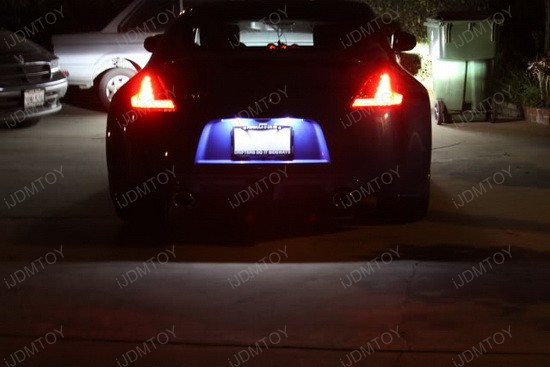 The T10 LED bulb is perfect for license plate lights, can light up the entire license plate and give your car a fresh new look. This type of 12-SMD T10 LED bulbs will replace the stock bulb size 158, 168, 175, 194, 2825, 2827, W5W, 912, 921 and installing this bad boy hasn't been easier. All you have to do is to replace the stock bulb with the T10 LED from iJDMTOY and shine all the way to the pavement. One more thing – this LED bulb is polar sensitive, so in case the LED bulb won't light up, please flip the bulb 180 degrees.
This guy with the 2011 Nissan 370Z just gave you a hint how to get noticed – LED License Lights. Easy and affordable, this fancy T10 LED bulb is the simplest way to dramatically change your car's appearance and not spend a fortune on it. As it turned out, you just can't go wrong with LED License Lights from iJDMTOY.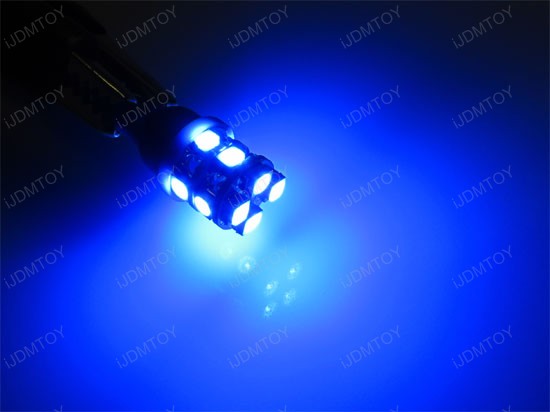 Brought to you by iJDMTOY.com, the expert for your Car LED. Follow us on Facebook for exclusive promo codes. For more information about LED License Plate lights, please check out How to install LED license plate lights base on a Honda Civic or Error Free Mercedes-Benz LED License Plate Lights Installation.
Leave a Comment
:backup reverse lights, car Interior lights, door courtesy lights, LED bulbs, led license lights, LED license plate lights, led lights, license plate lights, Nissan 370Z LED license plate lights, parking lights, T10 LED
more...
Visit our friends!
A few highly recommended friends...
Archives
All entries, chronologically...