Tag: two color LED strip
by iJDMTOY on Jul.05, 2012, under LED & HID News and Updates
The 2007 Lexus IS250 is know for its fantastic build quality, clearly a demonstration of the L-Finesse Lexus philosophy, but this guy went further and added Switchback LED Strips, which made the car look no less than great. Take a look at these beautiful sharp curves and aggressive lines, because the moment I saw this vehicle I knew the world has changed. Both the white LED daytime running lights and amber yellow LED turn signal lights are super bright and noticeable.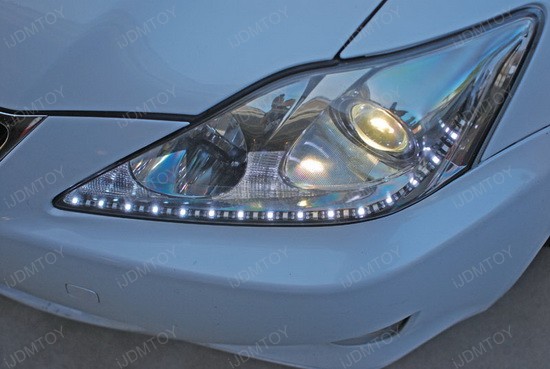 If you do want a serious and worthy alternative to the BMW-3 series or Audi A-4 stereotypes, this is the car for you. And with this fantastic LED upgrade, it turned out to be a bad-ass head-turner! The two color LED strip has 9 pieces Xenon White LED lights to be used as daytime running lights and 9 pieces Amber Yellow LED lights to be used as turn signal lights. Pretty cool, huh? I just can't think of a better way to dress up the turning headlights similar to the new Audi A5 or R8 Style!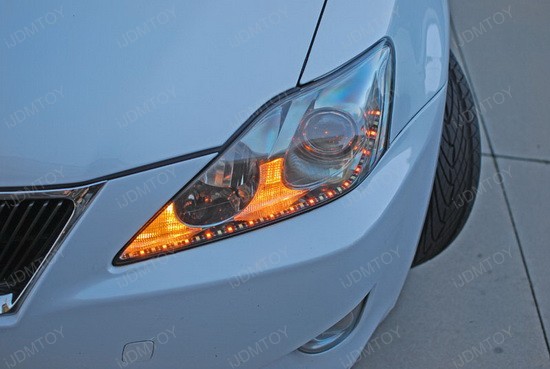 In case you want to know, the installation is very easy and everybody can do it. All you have to do is to peel the back of 3M double-sided tape and apply it underneath the headlights or under the bumper. Then connect the wires coming out of the LED strip in the following order: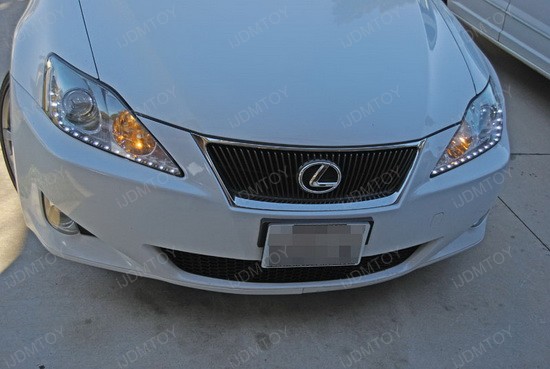 1) Connect the silver wire to the corner light positive, which is used when corner light is used in dim mode.
2) Connect the golden wire to the corner light positive, which is used when corner light is used in blinker mode.
3) Connect the third (single) wire to the corner light negative. Do the same with the other headlight and you are ready to test the switchback LED strips. If everything is wired correctly, the LED strips will function as daytime running lights and turn signal lights in proper order, otherwise switch the positive wiring around to have the amber as blinker and white as DRL.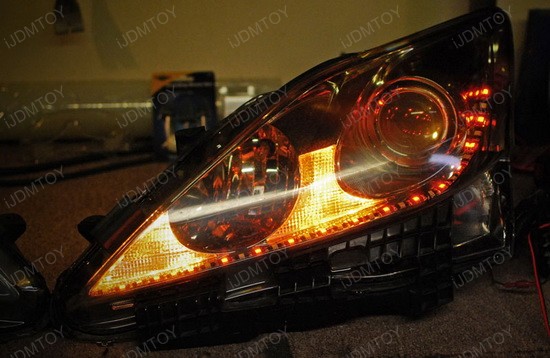 Check out this 2007 Lexus IS250 and you'll love the switchback LED strips. Each two color LED strip is way brighter than other LED strips, especially during daytime hours and makes your ride look just like the new Euro cars. Overall, a fantastic product to own and enjoy everyday.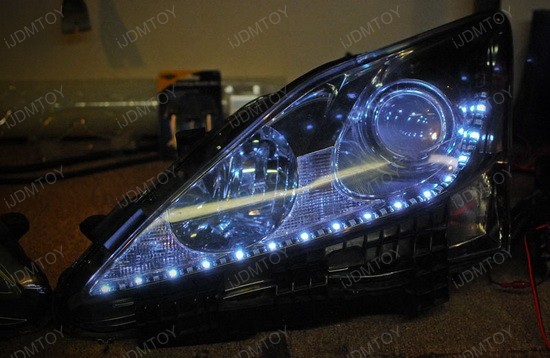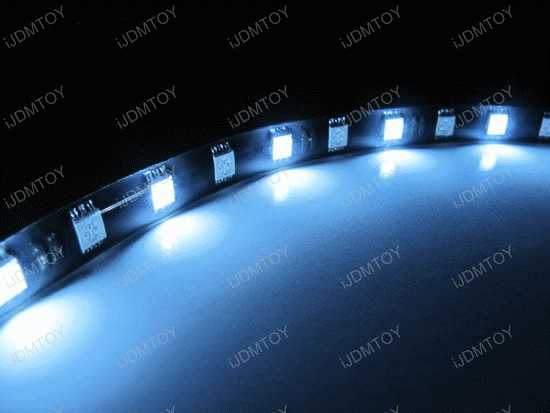 Brought to you by iJDMTOY.com, the expert for your Car LED. Follow us on Facebook for exclusive promo codes.
Leave a Comment
:auto led strip, automobile LED Strip Lights, automobile LED Strips, flexible led strip, flexible led strips, headlight led strip lights, LED Daytime Running Lights, LED strip, led strip for car, LED strip lighting, LED Strip Lights, LED strips, switchback LED strips, two color LED strip
more...
Visit our friends!
A few highly recommended friends...
Archives
All entries, chronologically...