Tag: vinyl sheet
by iJDMTOY on Jul.04, 2013, under LED & HID News and Updates
2009 Infiniti G37 is a head-turning top-class performer and boosting the look with these black tail light covers is a great upgrade. Getting a self-adhesive black-out dark protection vinyl film is one of the best solutions if you want to get that unique look. Tinting tail lights is becoming more and more popular every day and with some patience and a few dollars, enhancing the modified look of a vehicle is a sure thing.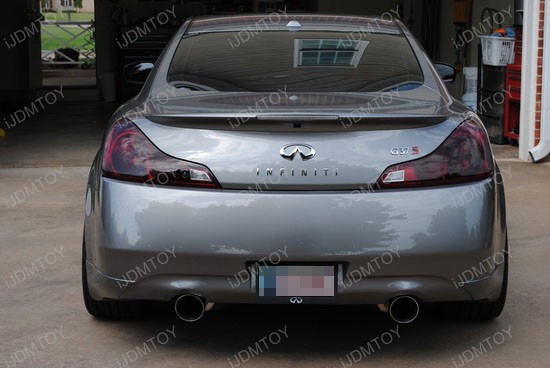 The process is completely reversible at a later date. If you happen to sell the car, or just want to take it back to stock, the film is removable and will not damage your lamp nor leave any residual. iJDMTOY offers high quality waterproof black-out vinyl film that will not fade, chip, crack, nor peel over time. The size of one sheet is 12" x 48" (1′ x 4′), not pre-cut with sheet thickness about 0.005 inches and is perfect for varieties of places such as headlights, tail lights, fog lights, side marker lights, bumpers, hood or even windshield.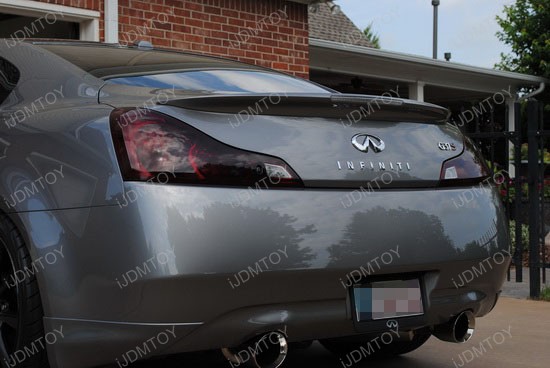 In order to apply a sheet of this black-out film, you'll need a vinyl squeegee (credit card with cloth wrap will work, too), soft cloth towel, spray bottle with soapy water and a hair dryer or a heat gun. First you have to clean the surface of the tail light with soap and water to ensure all debris are removed from the surface. Carefully remove the overlay and the protective film from the sheet and spray the overlay's adhesive side with soapy water. Then align and apply the film on the tail light, smooth out and use the vinyl squeegee to push out all the soapy water on the front face of the tail light. Make sure the crease are evenly distributed on the overlay, therefore you can easily smooth it out with a heat gun and squeegee.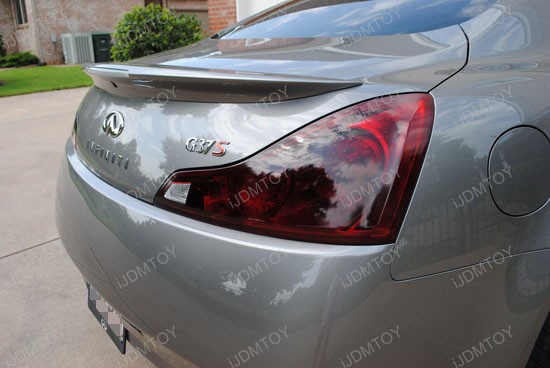 Carefully pull and fold the side inward – you can use the hair dryer to soften up the vinyl and squeegee out all the crease. If needed, stretch and pull the vinyl to smooth out. The excess vinyl can be easily cut using a brand new exact knife.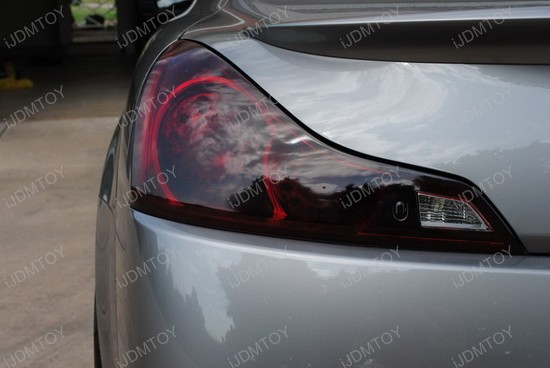 If you want your car to stand out like this 2009 Infiniti G37 with Black-out tail lamp covers, then get the featured product from iJDMTOY. It is human nature to want to be different and stand out in different desired styles. Tail light tinting is a growing trend that can be done by professionals or right in your home garage. Join the upcoming rise and look into getting your tail lights tinted!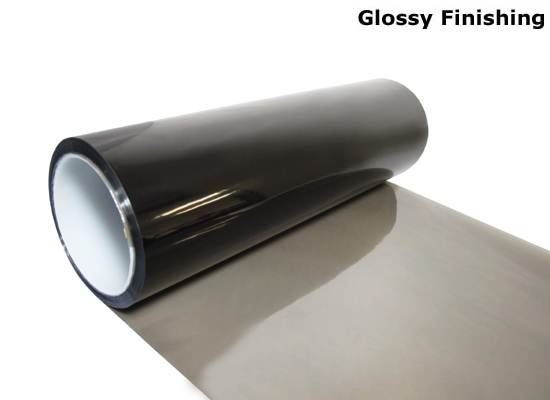 Brought to you by iJDMTOY.com, the expert for your Car LED. Follow us on Facebook for exclusive promo codes.
Leave a Comment
:black covers, Black Tail light covers, Black-out tail lamp covers, Dark Black Tail Lights, protective film, vinyl film sheet, vinyl sheet, vinyl wrap sheet
more...
by iJDMTOY on Oct.21, 2011, under LED & HID News and Updates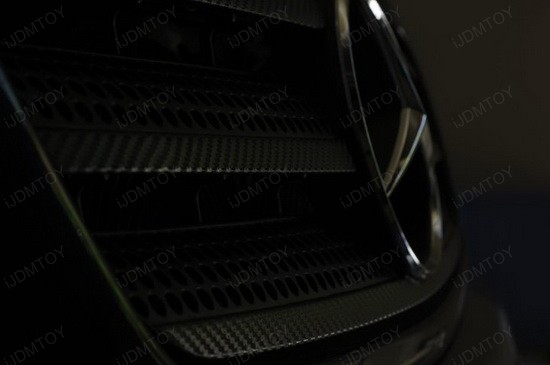 This time we are going tell you about one of our customers and his 1998 Mercedes ML 320, which got some elements wrapped in a Carbon Fiber Sheet. Aaron sent us these pictures via Facebook and as soon as we saw them, we were determined to write an article about this stylish cool-looking project.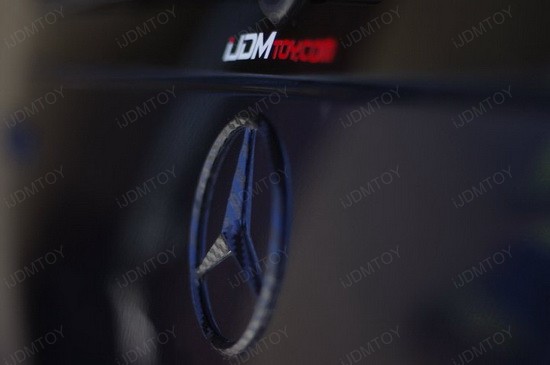 Aaron purchased Carbon Fiber Sheet from our store, and as it seems, he had his project in mind already. Basically, the Carbon Fiber Sheet got very interesting application – Aaron decided to give some stock elements a new stylish carbon-look. He applied the Carbon Fiber sheet to his SUV's grille, then to the emblem, and finally to the trunk trim, making the vehicle looks like a custom-prepared ride from a tuning company.
We admit that the results are great, and the goal is accomplished – his 1998 Mercedes ML 320 SUV was freshened up with a very small amount of money. And indeed, what you get for this price is an extremely quality product. These sheets are by far the most popular 3D Twill-Weave Carbon Fiber Wrap, without the high cost of actual carbon fiber material. This unique carbon fiber sheet is made of UV resistant vinyl that features a carbon fiber textured finish, and the true 3D texture resembles the genuine look of glossy carbon fiver. Some of the highlights of our product are the permanent acrylic pressure-sensitive self-adhesive; the water resistance; the ability to stretch with heat; and at last, but not the least, the long lasting lifetime.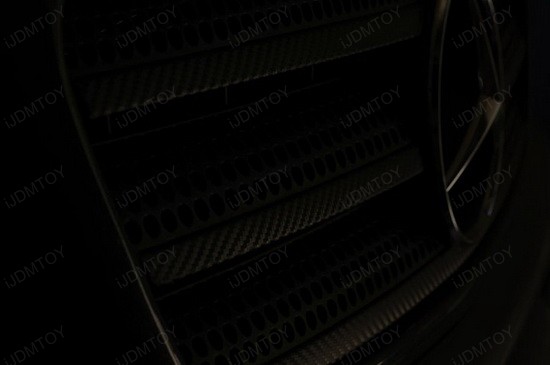 We like to say, "just use your imagination", as this carbon fiber wrap will transform anything you want into a stylish carbon fiber look without spending the carbon fiber price. Aaron did exactly the same thing with his 1998 Mercedes ML320 and we are pretty sure he is very happy with his tuning project.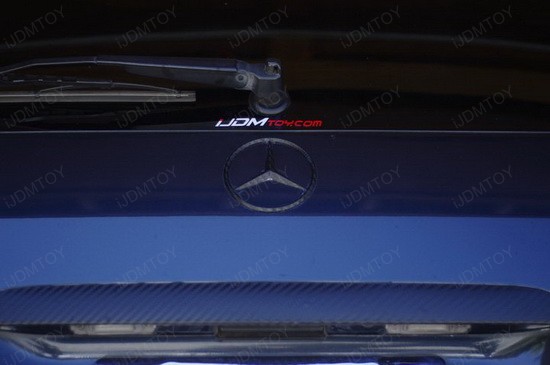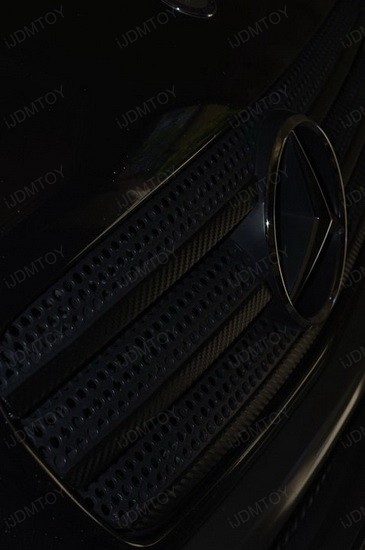 Brought to you by iJDMTOY.com, the expert for your Car LED. Follow us on Facebook for exclusive promo codes.
Leave a Comment
:3D Twill Weave Style, 98 Mercedes ML320, Carbon Fiber Sheet, carbon fiber wrap, Glossy Black, vinyl sheet
more...
Visit our friends!
A few highly recommended friends...
Archives
All entries, chronologically...