Tag: Volkswagen
by iJDMTOY on Jun.13, 2013, under LED & HID News and Updates
Since LED lights add very sophisticated look to any vehicle, regardless of age, brand, or type, adding LED lights to yours would be a no-brainer. Take for example this new 2013 Volkswagen Jetta GLI that one of our customers brought into our store; we threw on a set of our 18-SMD 5050 LED Daytime Running Lights bulbs in there and it completely changed the look of the vehicle instantly.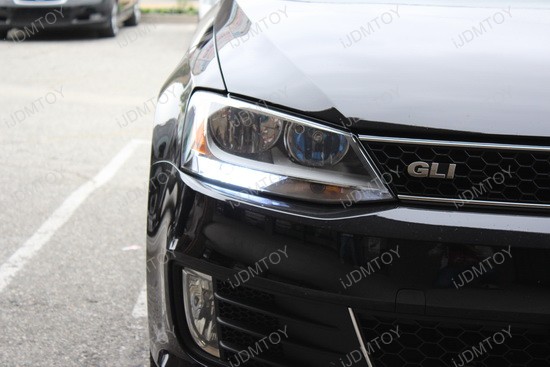 There are many questions that come to mind when you replace a light on a European vehicle such as: Are there any error messages? Are there are any flickering issues? Would these interfere with other functions and so on. Fortunately for this particular 2013+ Volkswagen Jetta GLI, there are no error messages or negative side-effects of replacing the daytime running light bulb. We used a standard LED bulb with no resistors or added components to make this happen, what you see in the pictures is just a direct bulb replacement. Please do keep in mind that this was only tested on this specific vehicle and that other vehicles even though they may be the same manufacturer, may throw error messages or cause other issues.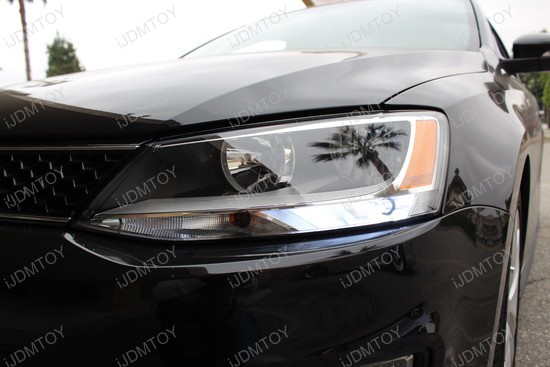 With this new upgrade, the look of this Jetta has completely changed from the dull, incandescent yellow hue that the lights produced to a brighter and updated look that the LED's offer. These replacement bulbs seem to suit the car so well that the untrained eye may even think these are factory lights and that this car came off the dealership lot just like this!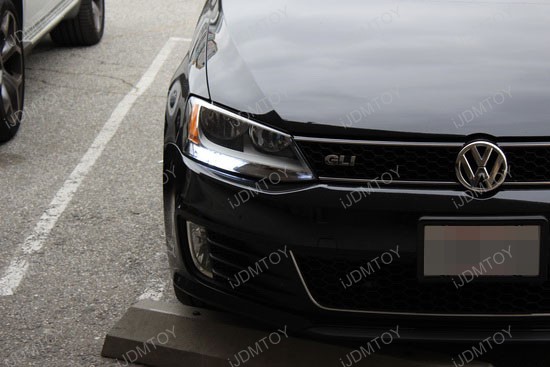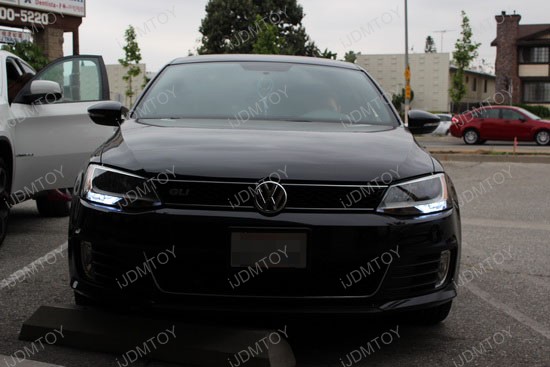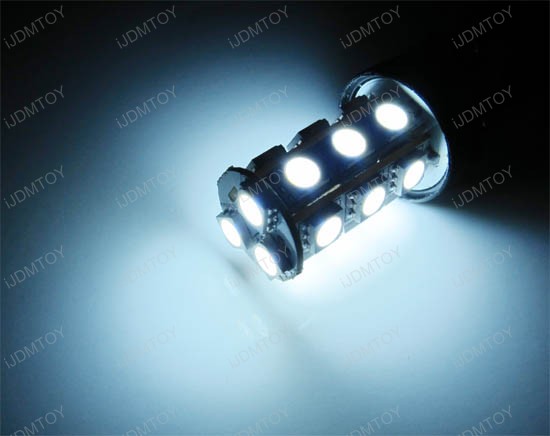 Brought to you by iJDMTOY.com, the expert for your Car LED. Follow us on Facebook for exclusive promo codes.
Leave a Comment
:bulb, bulbs, Daytime, DRL, GLI, Jetta, LED, light, lights, Running, Volkswagen
more...
by iJDMTOY on Jan.06, 2012, under LED & HID News and Updates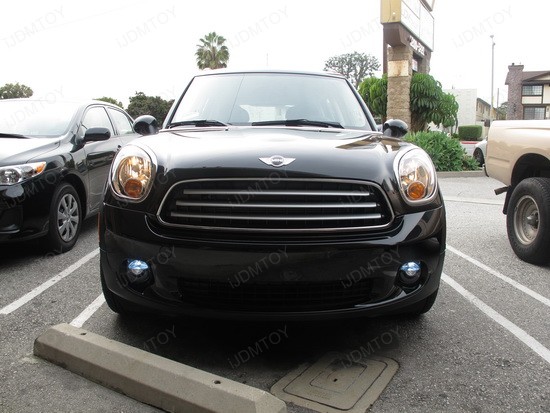 The 2011 Mini Cooper's quirky styling and British charm are attention grabbers, but with Error Free LED bulbs installed, this baby is the pearl in the rolling-boutique category. These trendy LED Parking Lights add a touch of modern technology to the neither retro nor heritage design.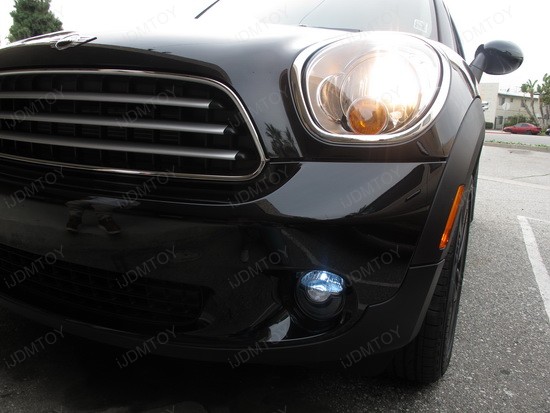 Despite the fact the MINI isn't equipped with HID headlights, these LED bulbs match perfectly to the overall exterior and contribute to the elegant appearance, too. However, this lighting product is a great match to any 6000K HID headlights and will look awesome in both combinations. This Error Free T10 LED bulb has 5 pieces 3-chip 5050 CREE SMD LED lights with built-in load resistors. It is designed to fit most European cars – Audi, Mercedes, Volkswagen, etc. and could be used as replacements for parking lights, position lights, eyelid lights or license plate lights. These Error Free LED bulbs have some great features and thanks to the advanced technology, you won't see the annoying "Bulb Out" error message on the dashboard. Please note that this product is not compatible with 2010 & up Volkswagen MK6 GTi for parking lights or license plate lights.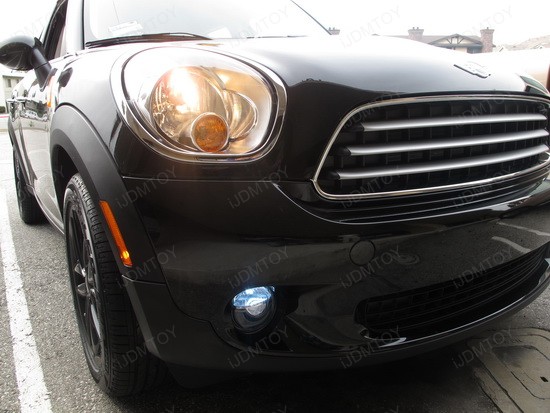 Installing the LED Parking Lights is very easy – all you have to do is to locate the back of the parking light lamp, then twist its socket and plug out the OEM halogen bulb. After that replace the stock 168, 194, 2825, 2825LL, W5W or W5WB bulb to the Error Free LED bulb and insert it back. The LED light is polar sensitive, and if the LED is not lighting up, flip the adapter around. That's it! Then you and your friends will enjoy the modern interpretation of the classic shape.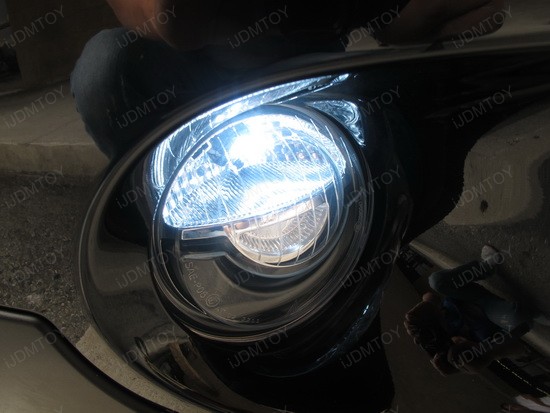 After all, this 2011 MINI Cooper with the super cool Error Free LED bulbs is a pint-sized car, that combines gender-neutral cute styling with a decent mechanical package. In short, it's the cutest shoebox with four wheels on the planet, but with awesome LED Parking Lights from iJDMTOY. The best part is that you can get your car the same LED bulbs and be modern for just a few bucks.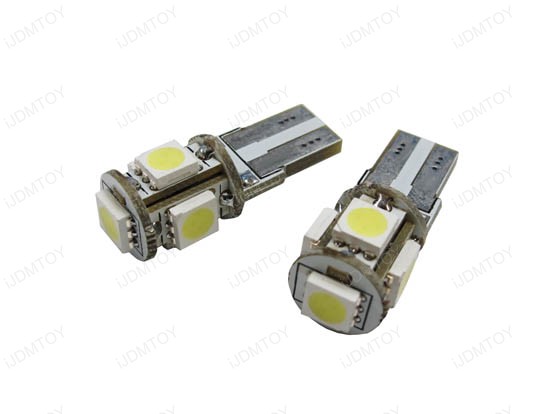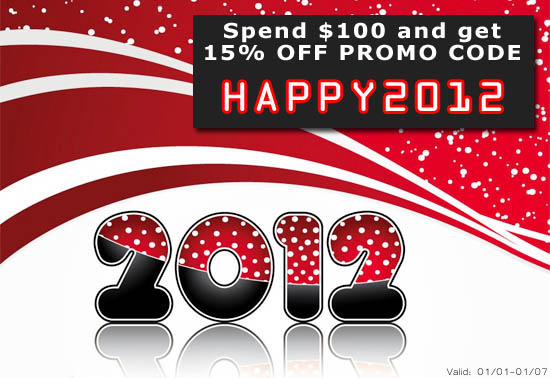 New year sale for new and existing iJDMTOY customers – spend $100 and get 15% OFF with PROMO CODE: HAPPY2012. Deal expires soon! Don't miss it!
Leave a Comment
:2011 MINI Cooper, 2825, Audi, Error Free LED, LED eyelid lights, LED license plate lights, LED parking lights, LED position lights, Mercedes, T10 LED Bulbs, Volkswagen, W5W
more...
Visit our friends!
A few highly recommended friends...
Archives
All entries, chronologically...