For Thanksgiving, www.iJDMTOY.com is having the biggest SALE in 2010, a storewide 20% OFF everything deal from November 19-30th. Even Bigger, from November 25th-30th, on selective items such as LED Strip Lights, HID Conversion Kit, LED license plate light bulbs, certain LED Daytime Running Lights, High Power LED Bulbs, and D1S/D2S/D3S HID bulbs will receive up to 62% off from its original price.
This Deal will not last, get prepared and happy shopping!
Please remember to visit our JDM-store during this holiday season and receive mega savings for all your auto car lighting needs. Want more money saving deals for this holiday? don't forget to subscribe to our newsletter at www.iJDMTOY.com.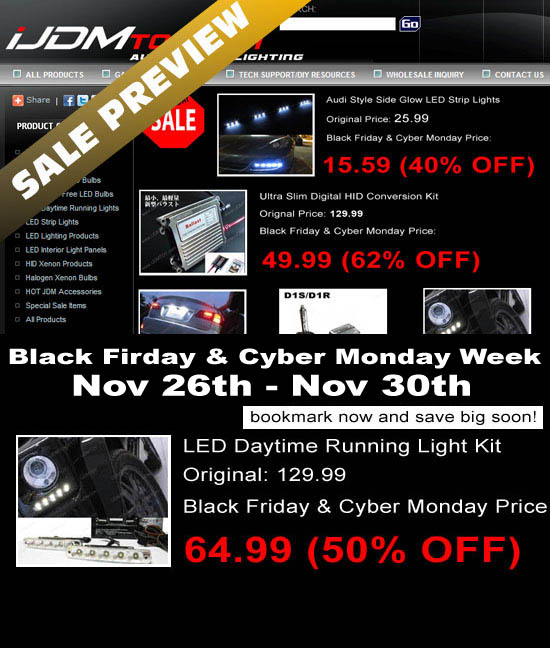 Below is a product that will receive additional discount during this Black Friday & Cyber Monday Sale!
Congratulations! Our 48-LED flexible LED light strip is on sale also during the Black Friday promotion. This 48 piece LED has consecutive LEDs 20 inches long. It is bigger than our SMD LED Audi style LED strip but this has 48 pieces of LED compared to 20 pieces of SMD. This lighting strip is also waterproof. The good news is that they are both on sale, marked down from $25.99 to $15.59, a 40% discount.
As always, iJDMTOY is the place to get your LED car lights. When you want to get a better look for your car of have questions about our products we have a storefront and customer service to handle your inquiries. The flexible LED lighting strips featured are very popular among cars nowadays, made popular by Audi and other manufacturers who have followed.
Installing these light strips is easy and there are examples below of how it looks. Install it on your headlights or even bumper. Some people use this for interior lighting. We are pleased to announce this gigantic sale, however the $15.59 price does not last long. Only for a limited time from November 26-30th can you be eligible to receive this price. Also save 20% on all store products beginning November 19 – 25th.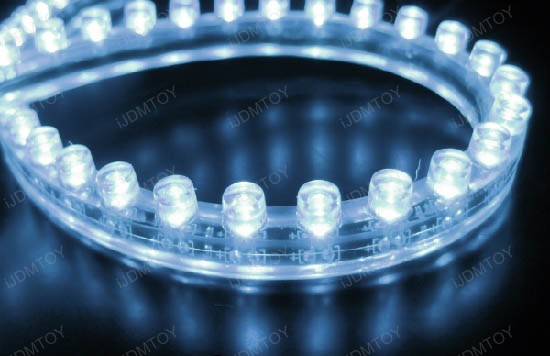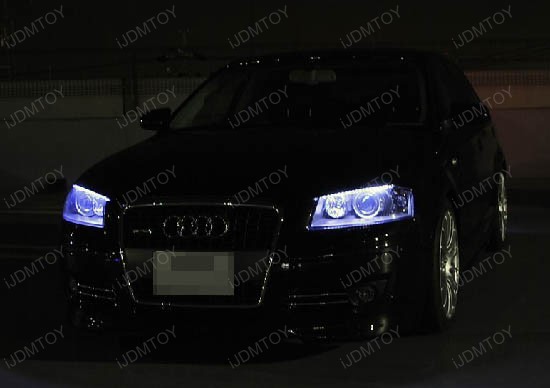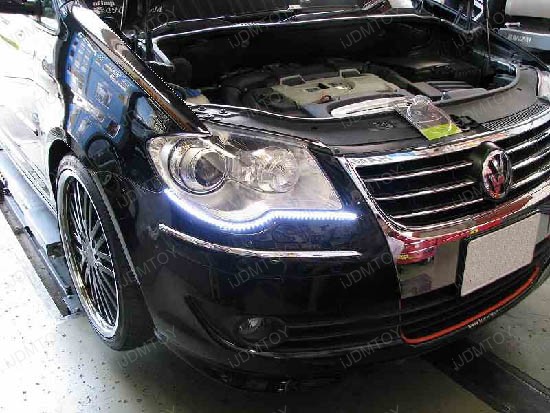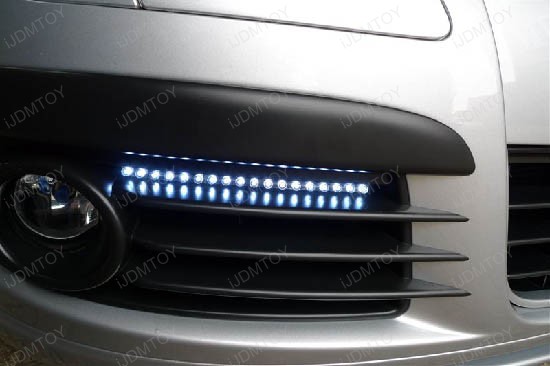 For more product pictures, please visit our Pictures and Video Gallery.
You can also find useful information on iJDMTOY Tech Support, Installation and DIY Guides as well.
Brought to you by iJDMTOY.com, the one stop store for all your Super Bright LED Car Light needs.