One of the UK's most popular series since 1977, Top Gear now brings its high-adrenaline action entertainment to America. The series tracks the colorful history of the automobile and showcases an offbeat celebration of the art of driving, featuring super-cars, extreme stunts and challenges, car reviews and celebrity interviews, as well as the eccentric adventures of its hosts with Top Gear's customary wit and humor. Hosted by comedian and car buff Adam Ferrara, champion rally and drift racer Tanner Foust and racing analyst Rutledge Wood, Top Gear explores the history of America, one lap at a time.
In one particular episode, the host Adam Ferrara mentioned about how the use of LED lighting has influenced the automotive industry and the example Adam picked is the all new Audi style LED headlights for the all new 2011 Audi R8 and the LED used for BMW Angel Eyes, for example, the 2011 BMW F10 5 Series, and the 2011 BMW E92 3 Series Coupe after the facelift.
Ever since this episode, we have got loads of customers emailing and calling us on to find out how to change the previous kind of yellowish angel eyes to the new LED look.
The answer is the high power LED Angel Eye Ring Marker Bulbs which can convert the stock halogen type angel eye rings to the new LED look, just like the all new 2011 BMW E92 3 Series. This kind of BMW Angel Eye upgrades will basically replace your stock H8 halogen bulbs with the wide-angle shinning H8 LED bulbs. On each bulb, there are two pieces 3W high power LED lights made by CREE to fully power up both the high beam and low beam halo rings. The installation is very simply, just plug and play and the special error free decoders in this BMW Angel Eye upgrade will make sure the H8 LED bulb to fully light up and not trigger error message on BMW's dashboard.
We have received some awesome pictures for a customer with a 2008 BMW E92 335i with HID headlights and HID fog lights upgrades plus the high power LED BMW Angel Eye upgrades. You can see from the pictures that even when the HID lights are on, you can still clearly see the BMW Angel Eye rings thanks to the high power LED bulbs.
Top Gear is RIGHT, LED will a major cosmetic makeup for car makers to make the future cars look better and the LED lightings will also shape the cars in the future dramatically.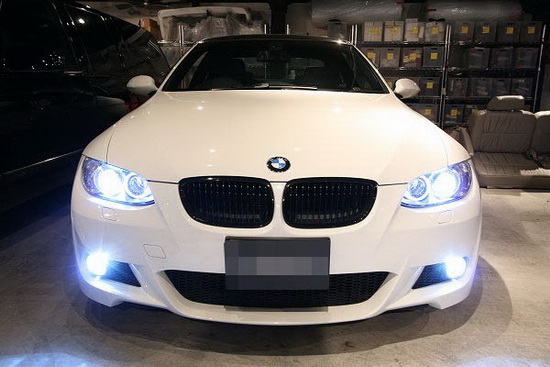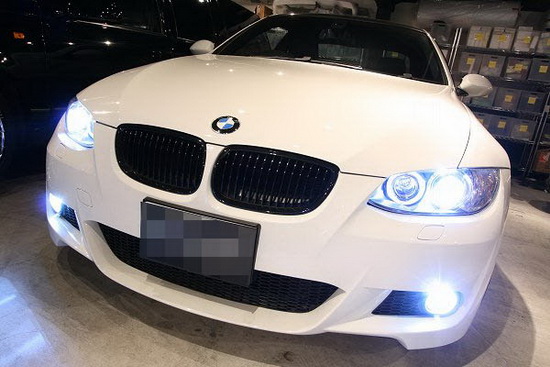 If you are interested at this product, you can buy BMW Angel Eyes below