If you wonder whether you should buy LED Side Door Lights, take a look at the pictures a happy customer sent us. We really like the achieved result and decided to share this LED modded vehicle with you. Here we are, introducing this guy's pretty neat project with a high quality product that has universal application.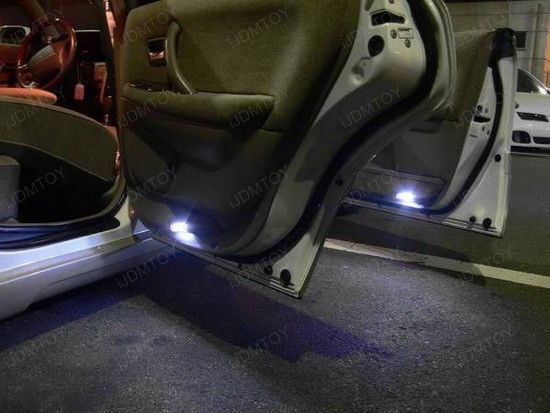 To achieve this stunning effect, the owner replaced his old yellowish OEM side door lights with JDM T15 9LED LED bulbs. You'll notice these bulbs are much brighter at night than the stock ones. We admit that this is a perfect way to light up your wheels, too! And since LED is more energy-efficient technology, you get brighter output with less consumption. These LED Courtesy Lights are perfect replacement parts that worth every cent.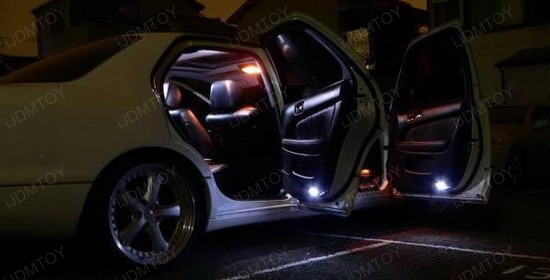 Installing these bad boys is a piece of cake. Actually you don't have to do any modification at all. First, you should remove the lamp covers. You can use a small flat screwdriver and when you remove the covers, replace the stock lamps with JDM LED lamps. Please note that LED lamp has positive terminal and negative terminal, so if there is no lighting after plugging it into socket, all you have to do is to change the terminal oppositely. That's all, folks!
Please keep in mind that with installing these LED lights, you increase your safety. We mean that when you open a door at nighttime, the emitted LED light will be visible from a very far distance, which decreases the risk to be unsighted by other drivers. To get more attention, you can purchase our product in Xenon White, Ultra Blue, Amber Yellow or Brilliant Red, and since these LED Side Door Lights are universal fit, please visit Sylvania Replacement Guide for detailed information.
Brought to you by iJDMTOY.com, the expert for your Car LED. Follow us on Facebook for exclusive promo codes.