Online Automotive LED Lighting Expert iJDMTOY.com today announces its Mega 20% OF Christmas Santa Sales from Dec 15th to Dec 25th to celebrate this Holiday Season.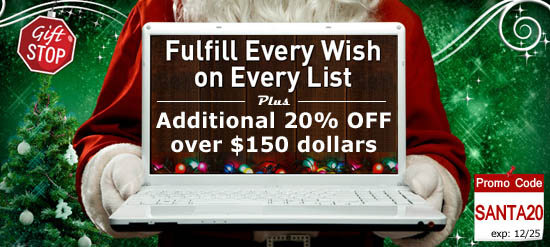 New and existing iJDMTOY customers can save additional 20% off from already reduced prices on all the car LED bulbs, LED Strip Lights, LED Daytime Running Lights, Pre-configured Car Interior LED Package, LED Undercar Lighting Kits, HID Conversion Kits, HID Light Bulbs, etc when you order over 150 dollars. Simply use the promo code:
SANTA20
at end of the checkout to receive this MEGA discount. The overall discount is up to 60% for selective items such as Mercedes-Brabus Style LED Daytime Running lights, Audi Style 9-LED Daytime Running Lights, CCFL projector fog light lamps, error free
LED bulbs
, and carbon fiber sheets. This Mega iJDMTOY's Christmas Santa sale runs from Dec 15, 2011 to Dec 25, 2011.
iJDMTOY.com was founded in 2004 and now it is already one of the largest LED lighting retailers in world, located in Los Angeles, California, USA. iJDMTOY.com is carrying the mission to provide the best selection of high quality LED plus the latest cutting edge technology at an affordable price to its customers nationwide and worldwide.
"We are all waiting for this moment, to shop gift not only for others but also treat us well too" states Eric (a representative for www.iJDMTOY.com). "Our passion is to provide the best automotive lighting parts to make your car looks and rides better than everyone else, specially at this time of year".
iJDMTOY.com has gained a reputation of being the most trustworthy and reliable retailer for car LED bulbs, high power LED daytime running lights, LED knight rider light, HID Conversion Kits, and HID replacement bulbs on the web.
iJDMTOY.com is also known as an active innovator and inventors in the automotive lighting industry. In the past, it invented the very first Audi style LED strip lights, the error free LED license plate lights for BMW or Mercedes and the all new switchback LED Daytime Running Lights as well as being the first company to introduce the high power Eagle Eye® LED lighting kit to use as parking lights, puddle lights, backup reverse lights.
Its most recent new products: high power, extremely bright switchback LED bulbs which are 3x brighter than traditional switchback LED bulbs and 10W high power LED Daytime Running Lights, direct exact fit for 2011 and 2012 Chevrolet Cruze.
"We value all our customers, " states Eric, "We will continue to provide the latest LED lights with extreme savings to our customers now and in the future. Here at iJDMTOY.com, your satisfaction is our No.1 goal".
For more product details about iJDMTOY's After Christmas Santa Sale, please visit the site at: http://store.iJDMTOY.com.
# # #
iJDMTOY offers a varieties of Automotive LED bulbs & lighting accessories. We carry LED car interior lights, Euro LED daytime running lights, Lexus style LED license plate lights, and LED strip lights, etc. Our products will make your car look super nice.