There are several different varieties of custom headlight styles out there such as halo projector headlights, LED headlights and euro headlights. No matter what motive you have for changing your headlights you can't go wrong with projector head lights as far as functionality and style goes. Halo projector headlights are made to illuminate the road better letting the driver to notice more of the road and to drive more safely during the night time. As a benefit, just about all the halo projector headlights out there have awesome new designs to replace the look of your vehicle and if paired with the right HID headlight kit your car will surely turn heads.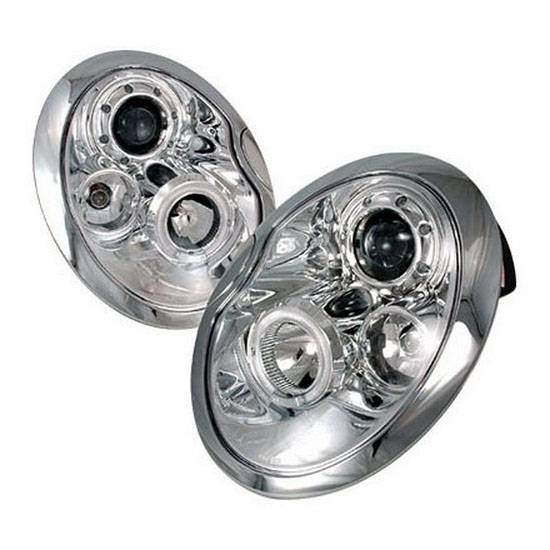 A lot of the projector halo headlights come equipped with LED halos yet not all of them are made with CCFL halos. The halo might be wired into the parking lights, into a separate switch, or just simply about anywhere else. The halo or angel eyes formerly determined on high-end autos such as BMWs became quite popular due to their unique look and now they are offered for just about any make and model on the market. The big difference between the LED and CCFL halos is relatively easy, the Cold Cathode Fluorescent Lamp is a more modern technology and is reported to be around three times brighter.
Euro style headlights are one of the other options that is designed to look more like the factory headlights but with an updated, modern look to them. Though the euro head lights don't come equipped with the projector housing they still do a great job at lighting up the road, mixed with the right bulb or HID kit of course. They are also the less costly selection if you're on a tight budget but still desire to boost your car's lighting.
Some halo projector head lamps are also compatible with factory HID systems. This is something you need to surely check before purchasing a set of headlights for your car. Ordinarily this particular is the situation with higher end cars just like Audi or Mercedes but there are several others on the market.
No matter what style halo projector head lamps you're looking for, most sets are available in a black or chrome housing and some even in a titanium or smoke housing. Set up is commonly easy enough to the point where just about anyone can do it but some applications may need professional installment.