The Lexus IS 250 is a nice sports sedan and it needs a pair of LED turn signal lights, so that it'll be easier for other drivers notice you while passing them by. Everybody knows this car is quick and fun to drive thanks to its balanced chassis and advanced electronic stability control system, but this guy just couldn't resist leaving it stock and replaced both the front and back turn signal lights with golden amber yellow color 7440 LED bulbs.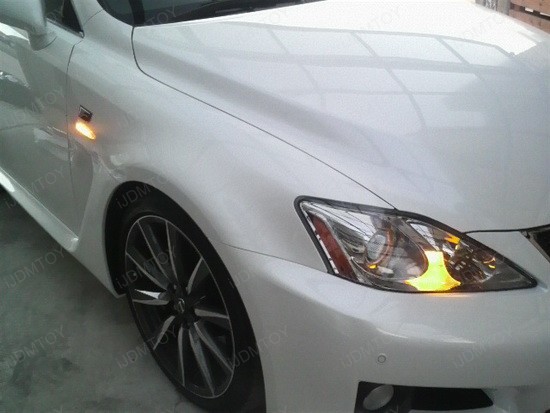 Just take a glimpse at the new Lexus IS look: elements such as the tail lights and headlamps seem drawn through to completion with these sharper edges. The new LED turn signal lights are great addition to the overall athletic appearance and impressive build quality of this entry-level luxury sports sedan. Easy and affordable, this fancy 7440 LED bulb is the simplest way to dramatically change every car's look without spending a fortune.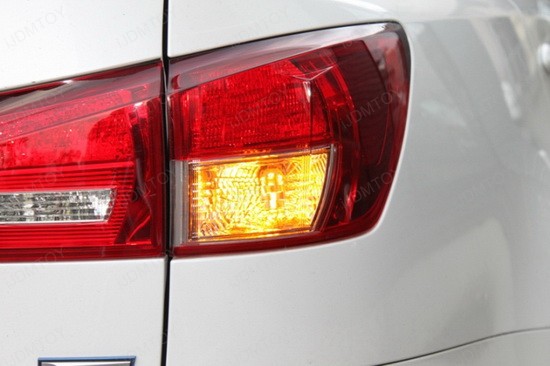 Installing the 7440 bulbs is really simple – just plug and play. This Super Bright 18-SMD 7440 LED bulb will replace 7443 and 992A bulbs in a quick and easy way, but please note that you might need to add a pair of load resistors to prevent hyper flashing or malfunction problem. For example, this guy installed the 8-pin decoders for Lexus, which prevent possible issues. That's only if you are using the LED bulbs for turn signal lights, because these neat-o bulbs are commonly used for turn signal corner lights, backup reverse lights, or brake/stop lights. Anyway, feel free to contact us if you need help with installation.
This 2008 Lexus IS250 is spiced up with impressive LED turn signal lights and as you can see – it looks great You just can't go wrong with purchasing a pair of these 7440 LED bulbs and give your car a fresh new look, which could be described with just one word – amazing! But if you want to go further and replace the other stock bulbs with LED ones, then do it – iJDMTOY offers this product in four different colors: Xenon White, Ultra Blue, Brilliant Red and Amber Yellow.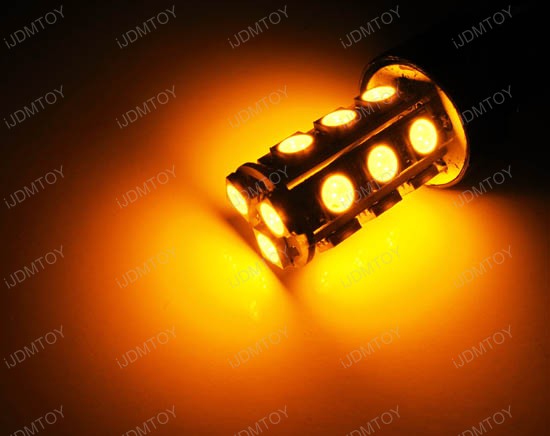 Brought to you by iJDMTOY.com, the expert for your Car LED. Follow us on Facebook for exclusive promo codes.