Although this 1993 Honda Del Sol existed way before LED usage in cars, it certainly stands out thanks to the lovely Puddle LED lights. This awesome LED mod could set any car apart from all the others and if you are looking for something like this, look no further – iJDMTOY's Undercar LED Kit will do the job perfectly – it shines very bright, it is waterproof and won't let you down when you want to make impression!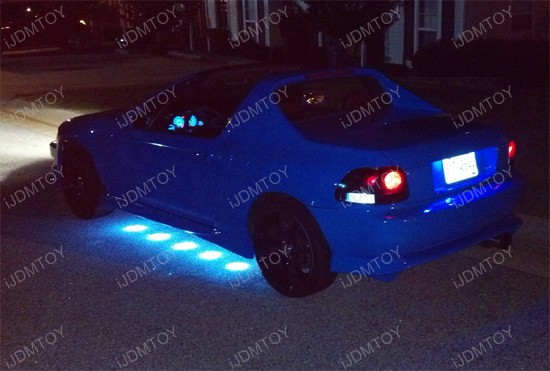 Take a look at the pictures and see the perfect light spots these Puddle LED lights give and light up the ground very nice and very bright. This add-on is very cool and will get you more and more compliments. The "magic" comes from a pair of super bright 56 inches 45-LED Under Car LED Puddle Lights with the Mercedes Benz Brabus style. Each LED strip has 5 pieces 9-LED modules and comes in 6000K Xenon White or 20000K Ultra Blue color to suit your style. When properly installed, this product will become completely invisible, leaving only the projected light spots on the ground visible! You'll have to knee down and look under the side skirts like a kid to notice the modules.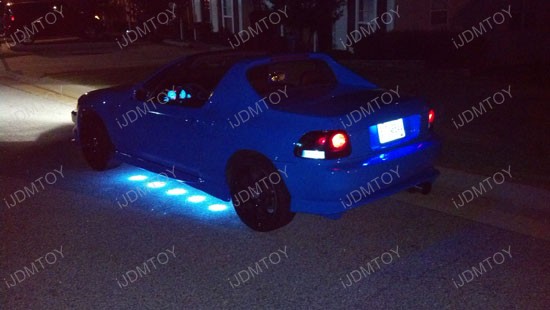 Installation is not that hard as you might think, because this iJDMTOY kit comes with everything needed for its proper installation. It is universal fit for pretty much any small to mid size cars and all you have to do is to take some time to align the LED lights straight with the included double-sided tapes in order to mount the screws. Then connect wires to side door lamps, so the puddle lights light up when door opens and that's all.
Look once again at this nice blue 1993 Honda Del Sol with Brabus-style Puddle LED lights and imagine your ride with this add-on. Such fancy Undercar LED Kit is exactly what you need to convert a regular Mercedes to a nice Brabus one or just dress up any other vehicle and not spending a fortune on it.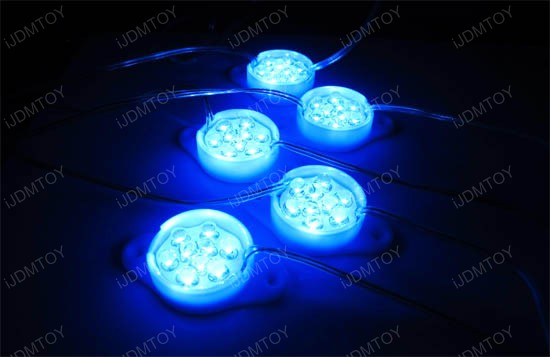 Brought to you by iJDMTOY.com, the expert for your Car LED. Follow us on Facebook for exclusive promo codes.