The 360 Degree 80W CREE High Power H8 LED BMW Angel Eyes Ring Marker Bulbs for BMW are much, much brighter than their factory incandescent counterparts. The LED Angel Eyes just look so much more energetic and don't have that dull yellow glow that plagues so many vehicles on the road today. There are no modifications needed for this application, as the BMW Angel Eyes are simply plug and play. There aren't any wires hanging outside of the headlight, for a clean and classy look.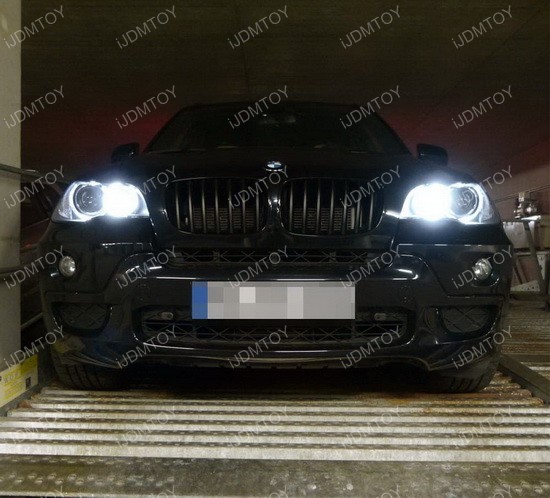 The 80W LED Angel Eye makes a tremendous difference in this BMW X6 and it's pretty obvious which Angel Eye is the brighter, better choice in BMW automotive lighting. Imagine how bright the LED lamps would be during the nighttime and how much brighter than stock incandescent they are. The lights shine is gorgeous bright white, which is quite a contrast from the stark dull yellow of the previous factory Angel Eye.
This product gives your BMW the closest look to the BMW OEM LED halo rings and paves your way through the night. LED Angel Eyes are a great way to upgrade your vehicle to a whole other level and a whole new look. So what are you waiting for? LED Angel Eyes are way better than stock and it's time to step up.