This guide is for 2008-2010 Mercedes Benz W204 C Class to convert the stock sport front bumper's halogen fog lights to the 2011-up LCI style LED daytime running lights. This installation would give your car that nice, crisp and signature LED daytime running lights look that the new Mercedes Benz C-class vehicles are famous for. However for this installation, please keep in mind that you have to remove the front bumper to perform this installation, and there is also some retrofit modification involved where you'd have to cut the stock bumper in order to fit the new LED daytime running lights. Because of this, we highly recommend professional installation.
1. There are three screws at the corners of the stock fog lamp that you'll need to remove in order to take out the stock fog lamp bezel. After you do this, you can remove the front bumper.
2. You'll need to cut out the original fog lamp bed with stock fog lamp outline in order to proceed. Use a cutting tool to cut around the edges of the opening.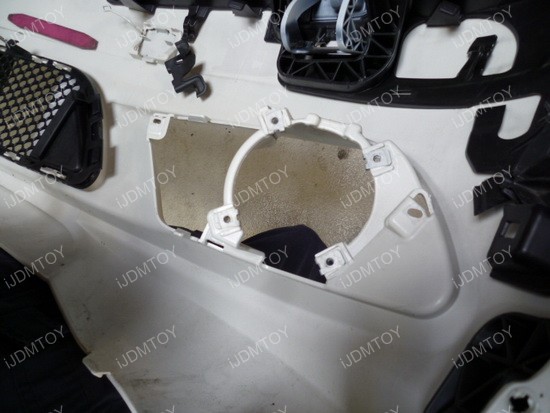 3. This is what the bumper is supposed to look like after you cut out the stock fog lamp outline. After cutting, you can put the back piece bezel in from the back of the bumper and put the front piece bezel in from the front of the bumper. Insert the LED daytime running lights from the back and lock the DRL lamp. To bypass the error message, connect the wires to the stock fog lamp harness positive and negative. The package includes load resistors to bypass the error message commonly seen on European cars.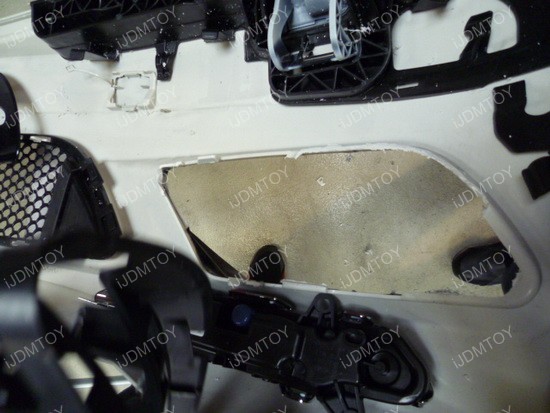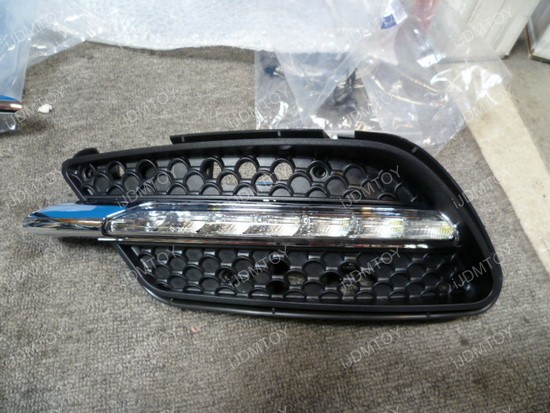 After the installation, your 2008-2010 C-Class will look exactly like the 2011-up model with the facelift. This retrofit modification can be a great afternoon project alone or a great bonding project between friends or family. LED Daytime Running Lights are a great way to update your 2008-2010 Mercedes Benz C-Class to the new look!