It's a given that everyone who owns a bike treats it with the utmost care and wants only the best for it to keep it in the shape possible. This RGB LED lighting kit is a great way to spice up your bike with all sorts of color accents that is sure to make it a one-of-a-kind! The LED ground effect lighting kit contains a whopping 4 pieces of 12 inches, 9 pieces of 3-emitter SMD waterproof LED strips, a cool remote control, and a LED lighting control module so you can customize your motorcycle however you want. The patterns and color combinations are virtually endless so you can choose between the on/off, flashing, and sound active patterns. The waterproof LED strips allow you to use this product as an exterior add-on without worrying about damage from the weather.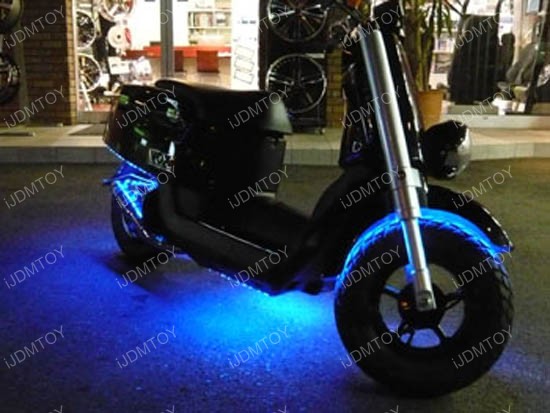 This scooter installed this kick-ass RGB LED lighting kit and the glow coming out from the bike is simply phenomenal! The LED glow looks pretty conspicuous but not overly tacky at all, giving the bike a radiant look. Just be sure to use this for show or off-road purposes and you won't have any run-ins with the law. You can even give a demo on your driveway for all the neighbors to see. You can just zip-tie to mount the LED strips in whatever fashion you like for your own personal creation.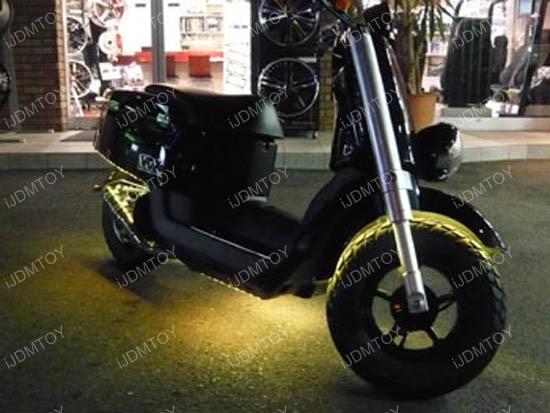 This new design has a 3-emitter RGB SMD LED lights as opposed to the previous design with the colored LED diodes, so each new LED light is equivalent to three traditional bulbs. Basically, it's like getting a three in one with these new strips. You don't even have to worry about any errors because this is an add-on product, meaning that it connects to the existing power source. This product is a universal fit, so the sky is the limit here. Use your imagination to create a work of art and design an entirely new look with all sorts of different combinations. LED strips are definitely the way to go!