Shopping for LED halo rings for your BMW may seem like a daunting challenge because there are so many options to choose from, but it's really not as hard as you may think. As long as you know the model and the year of your BMW, shopping for angel eyes is actually pretty easy. If you thought otherwise, you're just scaring yourself for absolutely no reason at all. We have a handy BMW LED Angel Eyes Guide to assist you in the process.
When you browse the LED angel eyes compatibility list, it may seem like there are a lot of choices, but all you need to do is narrow it down according to your model and year and you are pretty much good to go. Some vehicles only have one option available so you won't have to sit around wondering if you should buy the ring marker bulbs or the halo rings because the decision has already been made for you.
If you follow the chart correctly, you won't have to worry around buying the wrong LED bulbs for your BMW and have to go through the hassle of exchanging them. To find the appropriate LED ring marker bulbs or LED halo rings, simply start at the left most column and pick which model BMW you own. Go to the model year that applies to your BMW, and see if there is a link option for either the LED ring marker bulbs or the LED halo rings. Just keep in mind that your BMW has to have OEM xenon adaptive headlights in order to be compatible with the ring marker bulbs.

For example:
Say you have a 2009 E92 3 Series M3 and you wanted to upgrade to some new angel eyes.
Start at the left most column and find the model category that corresponds with your vehicle. In this case, it would be the "E92/E93 3 Series M3 with OEM xenon adaptive headlights." If the year of your vehicle is between the years listed, proceed forward. The angel eye upgrade for this vehicle is between 2008-2012. Since we have a 2009 M3, it fits in the compatible years. You can see that there are both H8 LED Ring Marker Bulbs and LED Halo Rings.

For Ring Marker Bulbs, we have three options available. Simply choose the one you prefer, since the sizing will be compatible if you've followed the chart correctly. If you prefer a more premium product, the same concept applies for the LED Halo Rings. There's even RGB Halo Rings in the available options if you prefer something more flashy, or you could always stick to the xenon white version as well.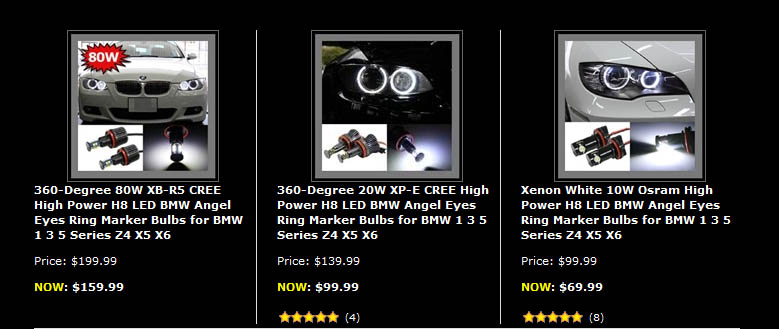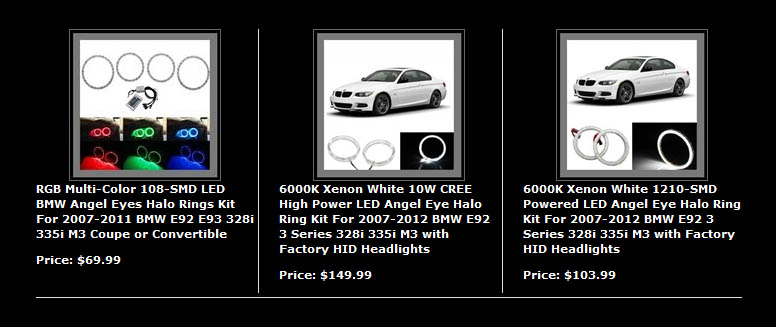 Another example:
If you have a 2001 E39 5 Series with adaptive headlights and you're bored of your stock lights and want to give your car the look that the newer models have, you just need to follow the chart again.
The left most column has the vehicle listed as "E39 5 Series Sedan with OEM xenon adaptive headlights" and the years compatible between 2001-2003. We are in luck here because our car is a 2001 model and barely made the cut off list for both options of ring marker bulbs and LED halo rings.

For the ring marker bulbs, you can either choose the extremely bright 15W High Power LED BMW Angel Eyes or the 5W High Power LED Angel Eyes. For the LED Halo Rings, you can stick with the traditional xenon white kit or choose a little different version with the LED switchback halo rings. If you're feeling extremely daring, there's also the multi-color RGB LED halo rings option.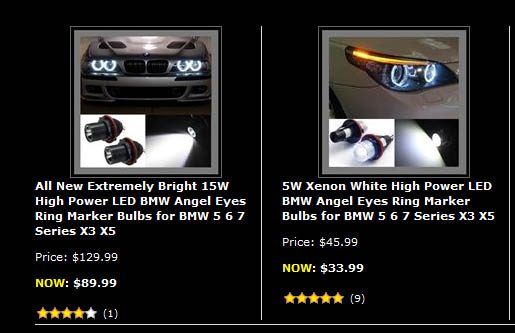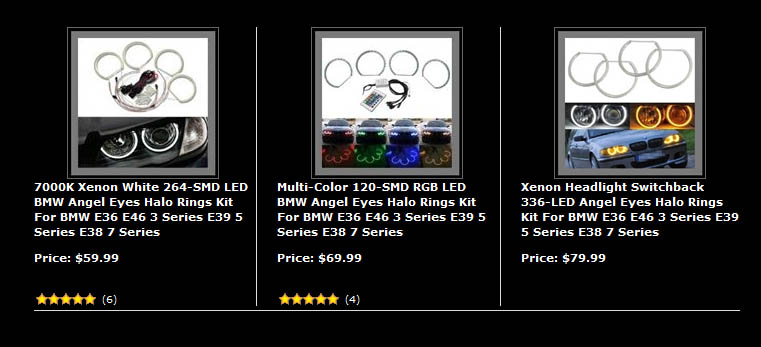 If your vehicle model and year is missing a listing for Ring Marker Bulbs, LED Halo Rings, or both, it means that there's no product available for the car at the year range you're looking for.
With all this information available and the chart to guide you to picking the compatible halo ring upgrade, it's all personal preference as to which LED lighting you want to have on your BMW as angel eyes. You can't go wrong with either ring marker bulbs or LED halo rings, so picking which one you prefer is probably the toughest decision you have. You don't have to fret about possibly purchasing the wrong fitment, because if you followed the chart, the fitment would be correct and the only tough choice involved is if you prefer LED halo rings or ring marker bulbs for your BMW.
Enjoy your new BMW Angel Eyes because whatever choice you make as your halo rings is definitely going to be a great choice either way.