The GMC Sierra truck is a hardy, reliable truck that has no limits, so adding a whole new 6000K HID Kit to upgrade the car's lighting will definitely do it justice. This HID Conversion Kit increases the output of your headlights so you can have better visibility during night driving. This kit converts your factory incandescent lights into something that you'd see on luxury vehicles, except you're putting this on a huge GMC truck instead.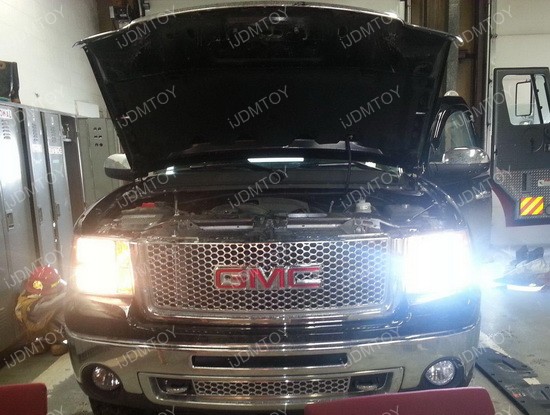 You can see this monster GMC maintaining its presence inside of this Fire Station and it definitely looks at home here. You can see the difference between the factory lights and the HID for sure, since the incandescent headlights looks pretty dinky compared to the super bright output of HID that there's absolutely no comparison at all.
When you see the matching HID headlights and fog lights you can imagine just how bright everything is at night. It would make driving in near darkness a total breeze. There really is no better showcase of how the 6000k HID Conversion Kit works because the crisp, white glow of the headlights looks out of this world.