Got a Hyundai Sonata without OEM fog lamps? That's your gain since these Hyundai Sonata direct fit LED daytime running lights are made just for that. These 14W high power LED DRL fit snugly into the fog light pocket so that it fully utilizes the space! These LEDs are high powered so it adds quite a nice touch to (almost) any Hyundai Sonata.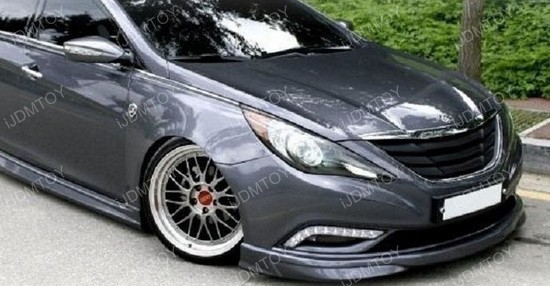 This is exhibited in this 2011 Hyundai Sonata and you can see that the new LED DRL look like the car rolled out of the factory looking like that. It's a great way to get all that bang for your buck since it's one way to get that factory look without paying the huge factory sticker price.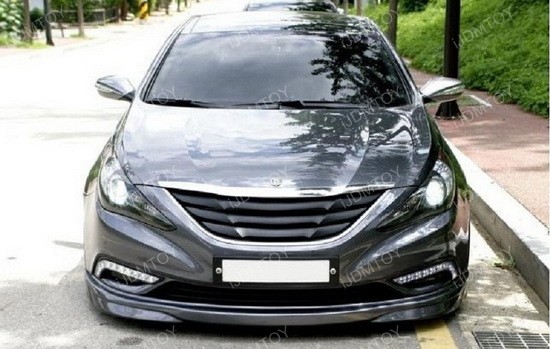 So how do you install this set of LED daytime running lights?
Open up a small gap where the bezel is to allow the wiring to pass through. You can even choose to remove the bumper to make installation a bit simpler. Be sure that the general area is clean so you can use some rubbing alcohol to gently wipe off any dirt and debris that may have stuck to the surface. There is double-sided tape already on the LED lamp so all you need to do it stick the assembly firmly on the bezel. To make sure that the LED light is secure, apply some consistent pressure to make sure that the LED light will not fall of due to roadside driving and uneven streets. Route the wires to the headlights and tap the wires. Red goes to battery positive, black goes to battery negative, and the blue goes to the ACC 12V+. You'll notice that there's a white wire as well. This is an option that you can tap to headlight positive to reduce the LED DRL output. You can even add the Auto DRL On/Off Switch and directly tap this LED daytime running lights to the battery.
You can see that the installation does not involve any tricky modification or advanced retrofit so even beginners can manage to successfully install this set of OEM Style LED DRL on the first try.