The Ford F-150 Raptor is something of a legend itself. It's a good sized, reliable truck that's also relatively affordable and has a ton of options available for upgrade. This set of Ford Raptor LED DRL lights fits snugly and effortlessly into the two openings on the lower bumper to completely transform your truck for a whole new LED look. You may notice that many aftermarket LED daytime lamps require some sort of modification such as drilling or or cutting, but this set of Ford Raptor Driving Lights are nothing like that. There is no modification required because all you need to do is fit these exact fit LED DRL lamps into the opening on the bumper to get it all secured.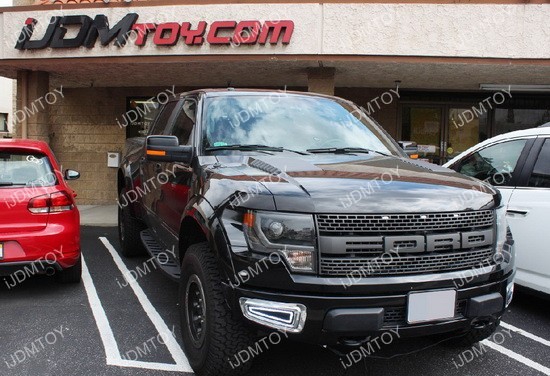 This 2014 Ford Raptor conveniently showed up at our storefront and we couldn't resist the opportunity to test out these new LED daytime running lights. The LED assembly fits into the opening perfectly, and very much expected, since they were specially designed for the Ford Raptor only. These LED daytime lamps are OEM fit so it looks like this Ford Raptor came out of the factory with with this set of LED DRL.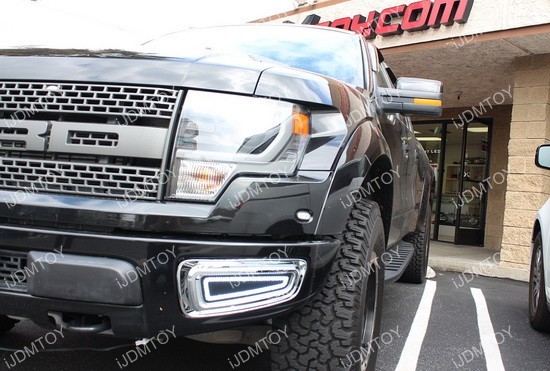 Before you install these Ford Raptor LED DRL, make sure that the surface is clean and dry. You can take a damp washcloth to clean off any dirt and debris. Don't try to rush the installation so you can carefully apply the 3M tape. You can even strengthen these LED daytime running lights by using a bit of silicone glue to secure it entirely.