The mini LED daytime running light kit is an all new design that's compact but still packs a punch. The included wiring harness and mounting bracket makes for an easy installation and even a better output. The mini LED assembly can fit in virtually any vehicle due to its small size so you don't have to worry about any fitment issues. They can be mounted either horizontally or vertically, so you get to have full choice in which direction you want to install them in.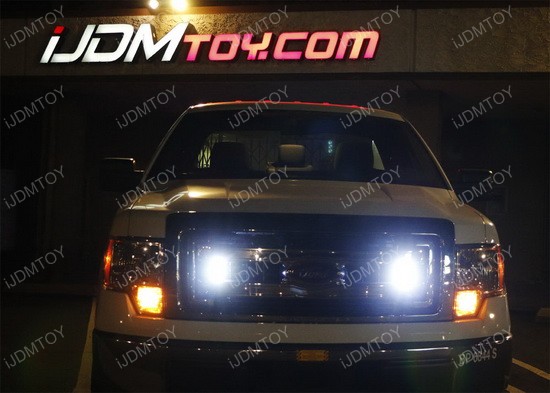 This 2014 Ford F150 has mounted them vertically on the grille to give the truck a more spotlight kind of look. The LED assembly on the grille is a very simple addition to give your truck a more complete look. It doesn't take much to install this set of F150 Behind Grille LED Lights, but it's not so commonly mainstream, making these miniature LED DRL one of the best kept secrets. These LED behind the grille lights give off a superior, unique look so that plenty of people will wonder where you got your new LED Truck Grille Lights from!
All you need to do is mount these universal fit LED DRL lamps to wherever location you would prefer, wire them to a 12V location and watch all eyes point in your direction.