OEM Fit products are generally considered the cream of the crop in terms of stylistic appearance and top notch quality. This set of OEM Fit Lexus LED Fog Lights lives up to the hype surrounding OEM style products with a flawless cut-off line effect that you would normally see on OEM HID headlight products on luxury European cars. The assembly is powered by two pieces of 1.5 fiber optics LED on each side for the daytime running lights and 3 pieces of CREE LED emitters for the fog light portion. The specially designed LED assembly and cut-off line are what sets it apart from other LED fog lamps out on the market today. Because it's so unique and revolutionary, you're bound to be one of the very few with this setup out on the road today.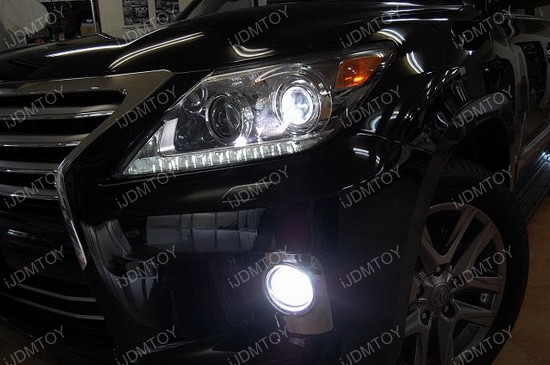 You can see this OEM fit masterpiece showcased on a 2013 Lexus LX570 and the brightness of the fog lights makes it almost as bright as day. All eyes are immediately drawn front and center to the headlights and fog lamps area, but the real star of the show are the super bright fog lights. In fact, the combination of the head lights and fog lights actually elevate the LX. You can really see just how sharp the cut-off line is when the LED is projected against the wall.
If you love having a Japanese car with European frills, then this OEM fit fog lamp is the perfect choice since you can have both giant car makers displayed on your ride. The output is also far superior over many other options available as well, so you definitely can't go wrong with installing a set of these LED fog lamps/DRL. This add-on makes it possible for your car to showcase the best of both continents and allows you to put all of the puzzle pieces together for the perfect car.