Technology always moves forward, and car advancements are no different. When BMW halo rings were first introduced, they were only made with halogen lamps. Eventually, these halo rings became LED and evolved into something much classier. Before long, RGB LED halo rings were introduced in the aftermarket industry, and featured LED halo rings with interchangeable 7-colors and flash patterns. That may seem pretty innovative, but it's only the first generation of RGB LED halo rings. Now, the current second generation of BMW E46 LED halo rings have a bit of an upgraded tweaking and includes a sturdy, clear lens cover so that you don't see each individual LED light anymore. Instead, you get a continuous output with a much more smooth look.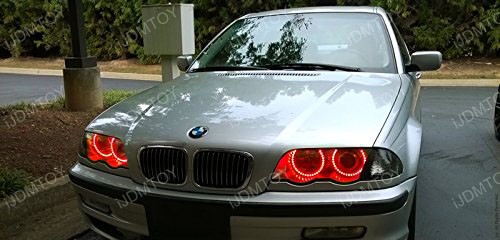 You can see these RGB LED lights in action on this 2005 BMW E46 325i. You'll notice that the individual LED halo ring emitters are not blatantly obvious as before. Instead, the output is more fluid because of the lens cover. This is actually the first kind of RGB LED halo rings in the industry so you might want to be the first person in your group to snag a neat set of these RGB LED angel eyes with the lens cover. Since you don't see each individual LED emitter, you get more of an OEM look that will makes heads turn.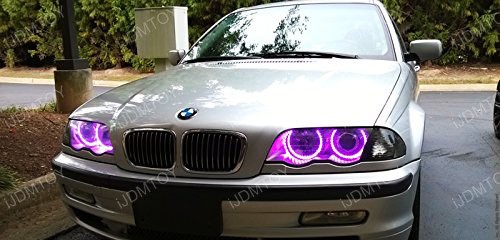 These RGB LED halo rings are up to four times brighter than regular CCFL halo rings and come with a wireless remote control that allows you to control the light colors and flash patterns from anywhere within a 60 feet range. This means that you don't have to directly point the remote to the receiver anymore. Imagine the possibilities this could mean, since you could control the flash pattern in your vehicle if you wanted to. The new wireless remote coupled with the lens cover make this set of RGB LED angel eyes a must have BMW accessory.