Want to switch it up from the usual snug fit direct fit LED daytime running lights? If you have a Ford Raptor, you can opt to get the Raptor LED fog light kit with specially designed cubes that gives your truck a unique flair. This is a four piece set of xenon white, high power LED bumper light assembly that has specially customized brackets that is exclusively for the 2010-2014 Ford F150 Raptor. If your Raptor is in those years, then it looks like you're in luck.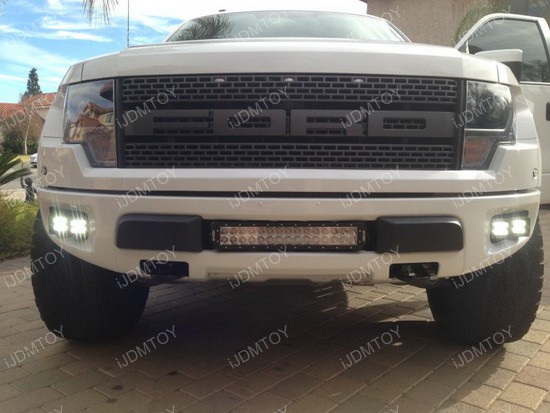 This 2011 Ford Raptor looks pretty sweet with all the new additions on the truck. The Raptor fog light kit fits very well into the truck during the day and is super bright during the night. You can see the contrast of the LED fog lights during the day and the night and the results are phenomenal. The LED fog lights are extremely bright that they would probably give other trucks a run for their money.
This LED fog light assembly comes with a set of powder-coated laser cut mounting brackets and two wiring harnesses that have an LED indicator switch, allowing you full liberty to control the lights separately. Since the Raptor sits so high up, you will definitely have people from all over taking a look at your Raptor LED Fog Light Kit, giving you full attention on the road.