Anyone a diehard fan of that old tv show "Knight Rider" and want to channel some of that quality of that show on your car? Maybe you just really like David Hasselhoff? Or even if you just really like the look of the flashing LED bar, the reason why someone installs this Knight Rider LED strip is not as important as showing it off on your driveway. What's great about this selection is that practically anyone can install these. They are not vehicle specific, so you don't have to ever check the compatibility list and be disappointed if you don't see your car on the list. If you've got a rugged American car or a sporty Japanese ricer, it doesn't matter because they're all compatible.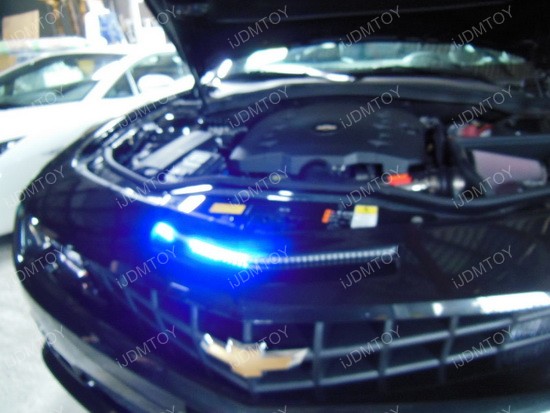 Speaking of a rugged American car, this 2011 Chevy Camaro sports this LED scanner light bar quite nicely. The blue LED is already super bright, so you can imagine just how extra bright it will be at night. All eyes would definitely be looking at this Camaro, that's for sure. The blue LED light isn't even all of the LED scanner in all its glory either. There are still tons of colors that are waiting to be displayed.
LED scanner lights are a great way to jazz up your car, since you can show them off at the push of a button, but can also hide them snugly in the hood of your car when they're not needed. The remote function has seven colors, including white, cyan, magenta, yellow, red, and green. The remote also changes the flashing patterns from flash, strobe, and pattern change. Once you have the remote, everything is now in your hands. When this LED scanner is not in use, it tucks away in your car and no one would even notice until it's called into action again.