The Nissan 370Z and the Nissan Juke Nismo both already have a very aggressive look, but there are a few people who want to give it that much more and add mods to make the car look meaner. A great modification people like to add is the Nissan 370Z Direct Fit LED Rear Fog Light, Brake Light, Reverse Lamp for these vehicles. There are two different colors red and smoked, but to make the car super aggressive, go for the smoked look.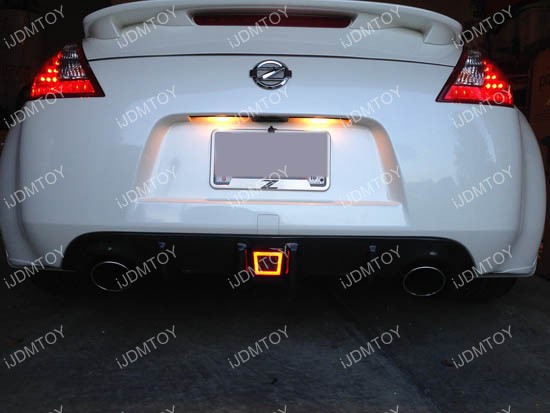 This Nissan 370Z has the smoked Fairlady Z34 LED Rear Fog Light and as you can see, it gives the car a meaner look for the from the rear. You can see the changes that this adds to the car with more features such as the brake lights, reverse lights, and fog lights. With safety in mind, more people can now see you breaking your Nissan 370Z with its 4th Brake Light that this Direct Fit LED will provide.
You can now replace the stock bulb-less reflector and add this Direct Fit LED to your vehicle and make your car even more aggressive with its mean look as you pass other drivers. Thank you to @kzontz from the 370Z forum for these pictures that he provided us with for his car.