The Ford Super Duty series distinguishes itself from the F-150 by utilizing a
different frame. The Super Duty uses a heavier-duty chassis and suspension
components capable of towing and holding heavier loads. Every standard F-250
uses a V-8 engine that produces 385 horsepower to support its superior hauling
ability. This super powered pick-up truck provides drivers the kind of upgrade
that they need when the F-150 or other trucks of that tier just doesn't cut it
for them. As with many vehicles, the Ford Super Duty has room for even greater
customizations. In the front end, there is a gap that's just the right amount of
space for our 25″ 144W high power LED light bar, set inconspicuously in the lower bumper.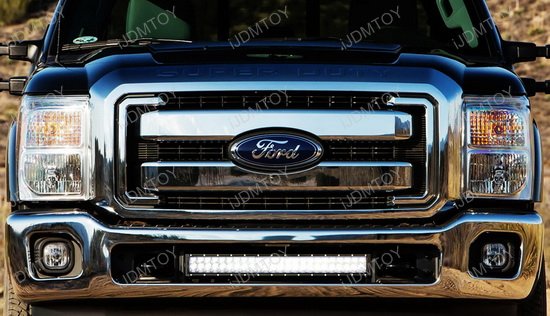 Our LED light bar is made for all iterations of the Super Duty series from
model years 2011 to onwards. Our 25″ configuration has a higher output than the
conventional 20 inches because it houses more LED diodes. We created the 25″ LED
light bar to address the 30″ length issue. When it comes to the Ford Super Duty
series, utility must not be sacrificed. Any time a driver wants to install a
longer LED light bar onto their F-250, they must remove the tow hooks, which
involves an intricate modification process, which no one wants to deal with. Our
25″ high power LED light bar is the perfect middle ground between 20″ and 30″;
it emits a higher output and is much brighter than a 20″ while being easier and
more straightforward to install than a 30″. Many solutions for off-road truck lighting can be found, you just have to start looking.