Everybody knows the famous Audi LED Strips, but check out this 2008 Lexus RX350 with one of our products installed. It seems the owner of the vehicle likes the fresh new European LED daytime running lights (DRL) look and here's what he did – he came to us and we packed his ride with Super Bright 21-SMD Flexible LED strips shine on the edge.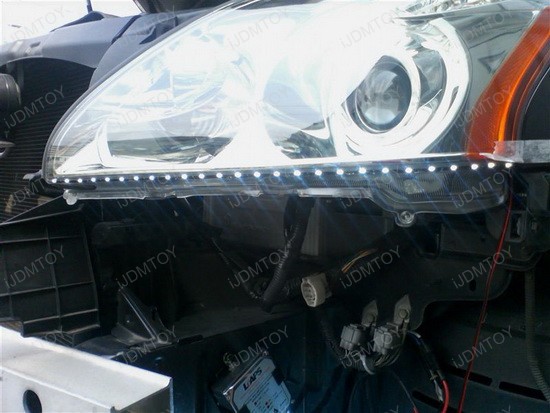 Do you like the result? We do! And what's more – this kind of LED strip lights are universal fit, fits any cars. Each LED strip is 20" (50cm) long, with 21 pieces high power super bright SMD LED bulbs and is mainly used for lighting up around the headlights, foglights or even under the bumper. The Side glow LED strips are available in two colors: Xenon White or Ultra Blue. One of our customers described it as a "sick upgrade; highly recommend strip if you are trying to dress up your whip".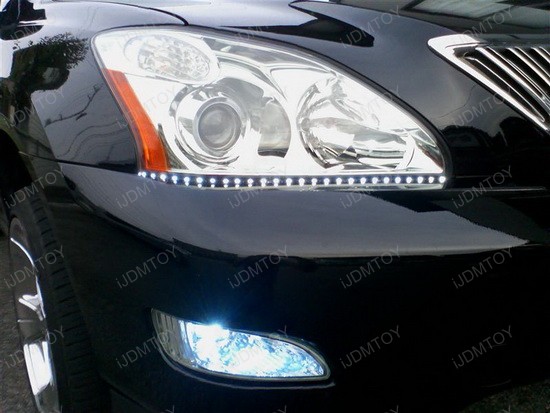 The installation is easy. If you look at the pictures you'll notice there's no need to open up the headlight lamp. Simply peel the double side tape and apply. If the strip comes too long, remember it is cuttable every 3 bulbs. After that hide the LED strip underneath the headlight and it will be virtually invisible when the LED lights are off. Please note that no matter how you flip it, the LED bulbs are always facing the front. Smart move, isn't it?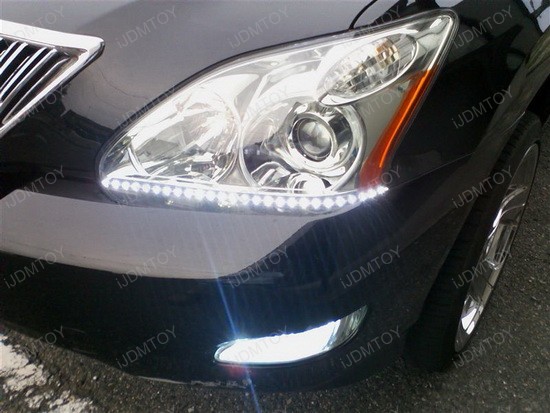 If you want to increase your safety and to give your car a better day and night look, all you have to do is to make a smart and inexpensive purchase – one pair of 20" Audi Style Side-Shine LED Lighting Strips. And if there are still doubts, take a look at this 2008 Lexus RX350 with its Side glow LED strips and think about whether you want your car to look as luxury and sleek as this vehicle.
Brought to you by iJDMTOY.com, the expert for your Car LED. Follow us on Facebook for exclusive promo codes.