Check out the super-duper cool 2005 BMW M3 – it has very nice custom BMW LED Halo Rings with stunning "fade on" and "fade off" effect. These BMW E46 3 series LED Rings are extremely bright and really set this M3 apart from all other bimmers on the street.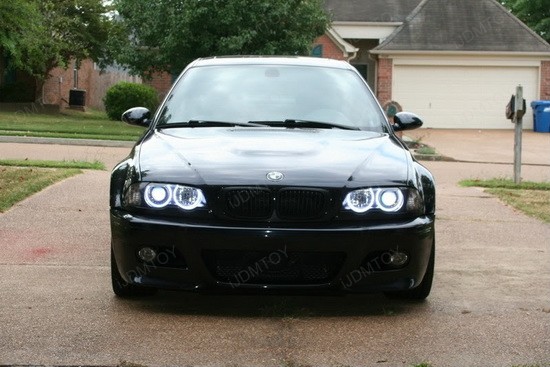 This LED BMW Angel Eyes Kit is 6 times brighter than conventional CCFL BMW Angel Eyes rings, with no blind point comparing with CCFL rings and awesome xenon white 7000K color. What's more – this kit comes with all necessary brackets, double-sided tapes, etc. – completely plug and play with no modifications needed and will fit in several BMW models.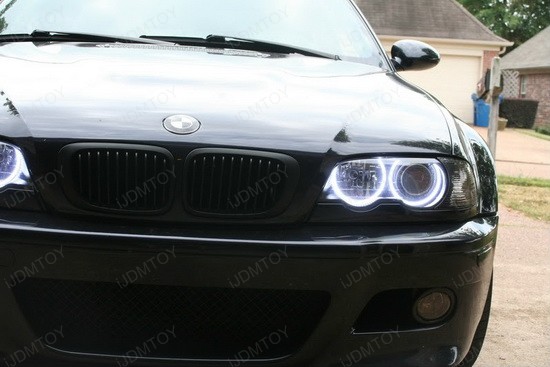 If you wonder how to install these pretty LED Halo Rings, then follow the steps. First open the hood and remove the corner lenses carefully. After that remove the weather stripping plastic above the headlight and the lower trim piece. Then you are ready to remove the headlight lens and the bezel around it.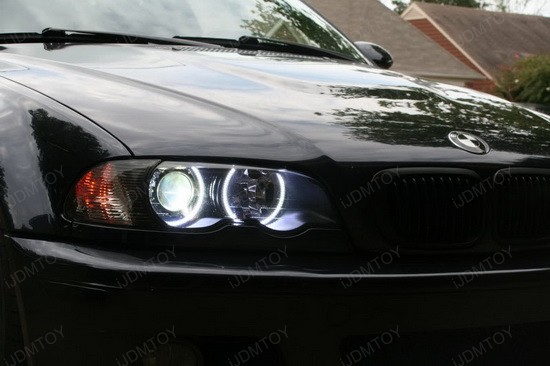 The next thing you should to is to take the clips from the kit and attach them to the back of one LED Halo Ring. Once you are ready with this part, feed wires through headlight assembly holes and out the rubber grommet in back. After that you can use a screwdriver to gently open the clips and attach the ring to the headlight housing. Do the same process for the high beam light. Please note you have to leave sufficient clearance for projector movement!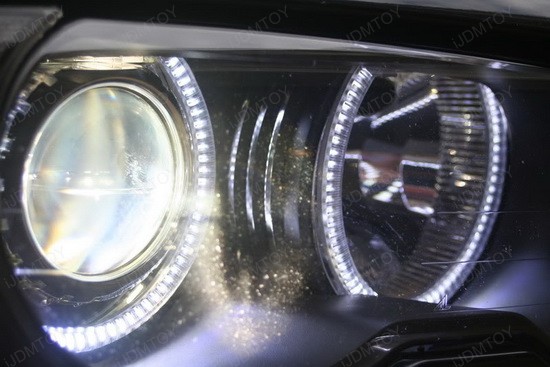 Next up – wiring: Connect LED DriverPack wires to harness coming out of the headlight rubber grommet in back and tuck the DriverPacks away from heat and moisture. Then you are ready to reinstall the headlight bezel, lens, trim, weatherstripping and corner lenses.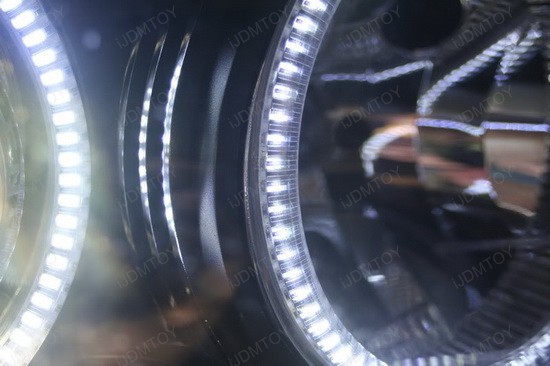 Look for a small side cubby hole to bolt the relay. Then find the rubber seal covering the positive (+) terminal and route passenger side wiring underneath. Bolt positive ring terminal from harness to the positive terminal of the battery and bolt negative ring terminal from harness to negative terminal of the battery. Put back the rubber seal in place and connect harness ends to LED DriverPack.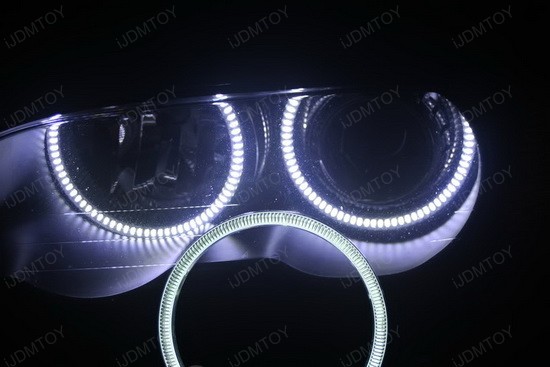 Next, route driver side harness inside trim cover behind the engine, then underneath seal to DME cover and finally to driver side LED DriverPack. Connect terminals and remove the DME box cover. Here you have to find the +12V accessory wire (red/white with yellow dots). Once you are ready with this, splice supplied wire tap to +12V wire. Plug spade connector from harness into wire tap and put back the DME box cover.
Remove grommet from passenger side firewall, pierce hole through grommet and thread remote wire. Here you have to punch hole in carpet, route the wire through hole and reinstall grommet. Get in the car and remove passenger footwell light. Carefully reach inside and locate remote wire that you routed earlier. This is where you have to use the supplied wire tap on red/green wire for the remote fade in/out feature. The last step is to reinstall footwell light and test the BMW LED Halo Rings on your ride with the key remote. In case you have some questions regarding the installation process above, check out the detailed video on the product page or contact iJDMTOY.
This 2005 BMW M3 is a really mean machine, but with BMW LED Halo Rings from iJDMTOY, it looks completely different and awesome! If you are looking for something to make your bimmer hella cool, look no further! Go for it!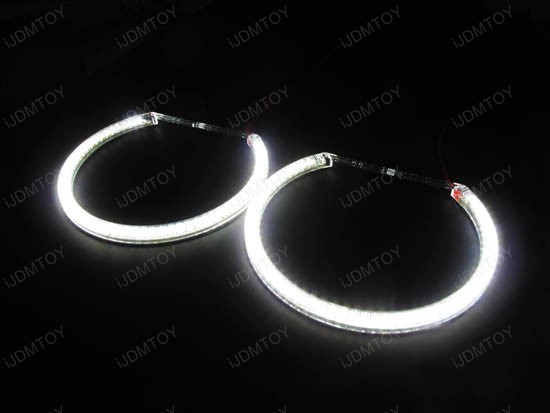 Brought to you by iJDMTOY.com, the expert for your Car LED. Follow us on Facebook for exclusive promo codes.