The 2013 Hyundai Genesis Sedan offers style, features and power, but the High Beam LED DRL are a must have for an authoritative presence on the road. This customer really wanted to give his luxury car a distinctive look and purchased H7 LED High Beam bulbs from iJDMTOY. After that he brought it to an autoshop for installation. It seems that guys over there couldn't figure out how to install this plug and play product and informed him the product is wrong. Anyway, he went back to iJDMTOY for return and these guys installed the very same High Beam LED DRL bulbs for free.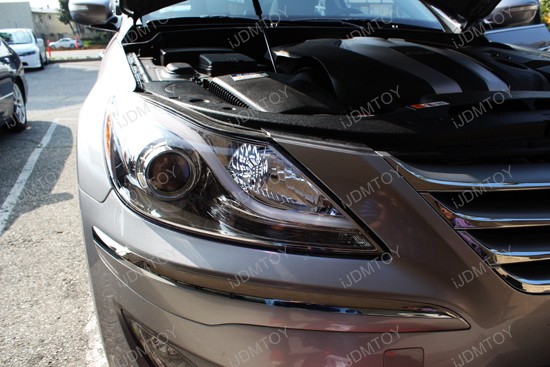 Let's pay some attention to this smooth upgrade. Each bulb has 68 pieces super bright 1210 (3528) SMD LED lights for amazing output and will fit in 2010 and up Hyundai Genesis Sedan, 2011 and up Hyundai Sonata (except hybrid), 2012 and up Hyundai Veloster, 2013 and up Hyundai Genesis Coupe on high beam for daytime running lights. It comes in Xenon White or Ultra Blue color and has 20000 working hours lifespan.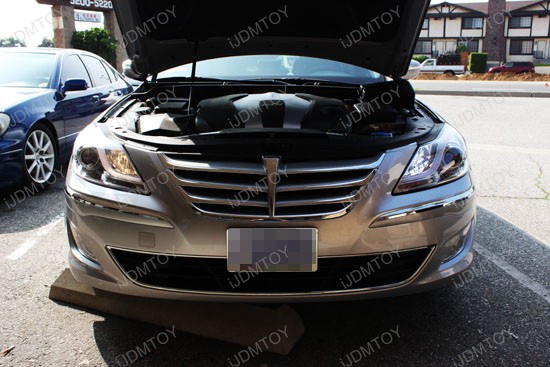 In order to replace the H7 High Beam bulb you need to access the headlight housing by removing the air box on the passenger's side, and moving, without disconnection, the fuse box on the driver's side. It's easy to do with no "tricks", and is done with a 10mm socket. Next remove the plastic covers, unplug the old dull yellowish bulb and install the new H7 LED High Beam bulb. Finally, put everything back together and you are good to go.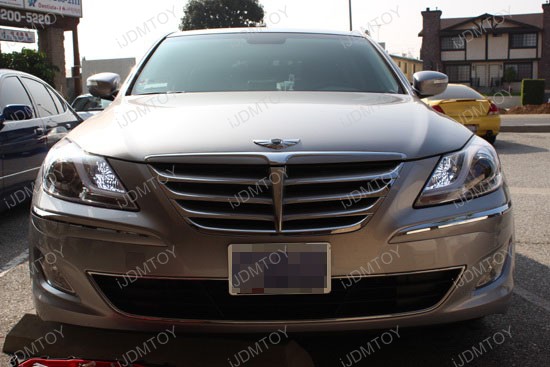 This 2013 Hyundai Genesis Sedan with the featured High Beam LED DRL is a proof that not all works of art are parked in museums. The brand new LED bulbs emphasize the aggressive and sporty look of this luxury car and the best thing is that you don't have to spend a fortune to make your car a head-turner.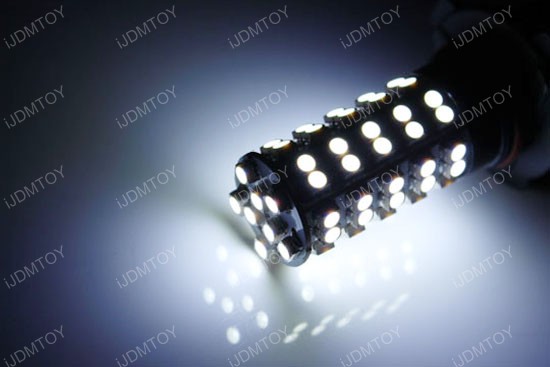 Brought to you by iJDMTOY.com, the expert for your Car LED. Follow us on Facebook for exclusive promo codes.