As I was passing by the Total Oil Booth and their race-ready 2009 BMW 1 Series, I stumbled on a cool aftermarket accessory – a Yellow Headlight Film. These yellow tint looks just awesome and gives the BMW glossy golden touch. Actually, this vehicle looks more aggressive with the Yellow Vinyl and certainly made many people stop-by and take a good look at the headlights. That's exactly what caught my eye, too.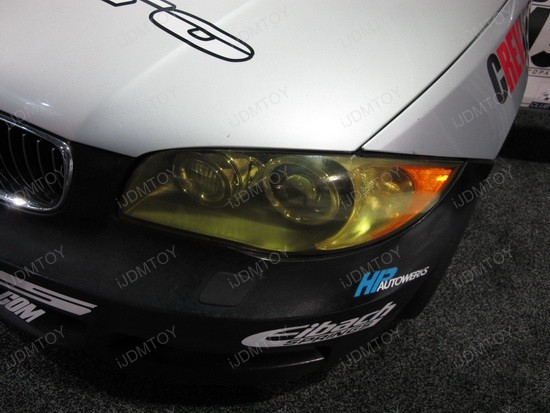 The headlight projectors look like the yellow eyes of Godzilla and I bet you'll love the look of these Angel Eyes shining through the golden tint vinyl. It was great – this yellow headlight film with combination of black and white paintjob is nothing less than a feast for the eyes!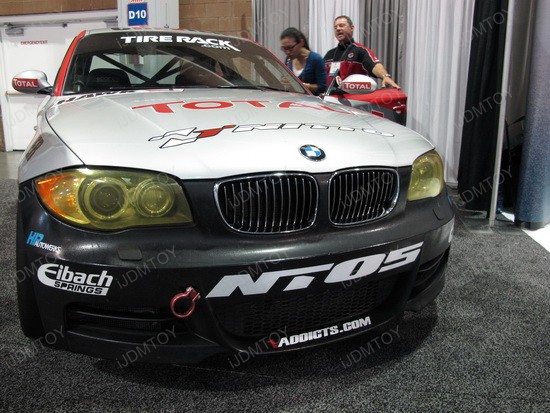 Well, here's some more info – if you like this product, you don't have to pay large amount of money to get yellow tinted headlights, as you can find the same high quality modern Yellow Headlight Film at JDM Toy for just a few bucks. You'll be surprised how easy this trendy look could be achieved – simply clean the surface and apply the yellow vinyl sheet to your headlights or fog lights. Then just cut off the extra parts and that's all – JDM's product won't damage your lamp, nor leave any residual later when you remove it. It is universal fit, stretchable, water resistant, self-adhesive and long lasting trendy accessory, which will give your car racing look for just a few bucks.
Before I continue my report on another new product, found in the SEMA show, take a good look at the black and white 2009 BMW 1 Series with these beautiful yellow headlights and have in mind JDM's Yellow Headlight Film in case you decide to equip your ride with some of the latest trends in the aftermarket automotive world.
Brought to you by iJDMTOY.com, the expert for your Car LED. Follow us on Facebook for exclusive promo codes.